Until now, learners from Diyatalawa farm in QwaQwa have had to walk long distances to get to the Majweng Intermediate School.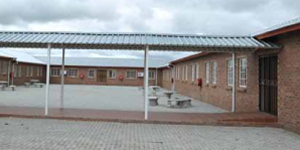 But with a new hostel set to open at the school, learners will be able to concentrate on learning instead of the journey to school.
The Free State Department of Education built the hostel to accommodate learners from far-flung areas of Diyatalawa at the school.
The hostel will make the lives of Diyatalawa residents, like Matsie Motsoeneng, easier.
Motsoeneng is happy that she will no longer have to worry about her seven-yearold daughter, who is in Grade 2, walking for about two hours to get to school.
For as long as she can remember, Diyatalawa's children have walked long distances, some as far as 12 kilometres to the Majweng Intermediate School.
It is a journey that Motsoeneng takes with her daughter every morning.
"On days I cannot take her to school, I worry because the distance she has to walk is very far. The hostel will make a huge difference to our lives," she said.
The hostel was built as part of the Comprehensive Rural Development Project (CRDP). The CRDP promotes food security by facilitating land redistribution, creates business opportunities and expands opportunities for rural women, youth and people with disabilities.
Diyatalawa, due to its extreme poverty, was identified as one of the pilot sites for the project after President Jacob Zuma visited the area in 2009.
But it was only in 2011, when President Zuma returned to Diyatalawa to monitor the progress of the CRDP, that Motsoeneng and her neighbours told the President about the challenges their children faced to get to school.
The President then asked the Free State Department of Education to build a hostel for learners at the Majweng Intermediate School. The construction of the hostel, which cost R11.9 million, started in April 2012, said the department's director of communications Howard Ndaba.
The hostel can accommodate 144 learners and also has a kitchen, laundry room and dining hall.
With water and electricity now connected, the hostel is ready for occupation.
"It is great that the government was able to complete the hostel so quickly. We are so happy to have this in our community. This hostel will make my daughter's life so much better," Motsoeneng said.
The department will provide food and accommodation to the learners. Housemothers and fathers have been appointed to look after the children while they are at the hostel. At the end of every school term and during long weekends, the learners will return to their homes, Ndaba added.
Currently there are 2 817 learners in the Free State living in 25 school hostels.
The department recently completed another hostel at the Kgotsofalo Intermediate School in Tierpoort near Bloemfontein, while another is expected be completed at the end of April at the Albert Moroka Secondary School in Thaba Nchu.
For more information contact the Free State Department of Education on 051 404 8000.