Youth matters
New blood has been injected into the National Youth Development Agency (NYDA) with the appointment of seven new board members.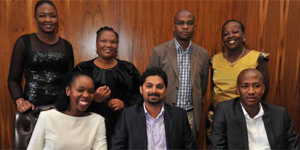 The new members, who will serve the agency for the next three years, were appointed by President Jacob Zuma.
They officially started their tenure on 1 April 2013.
Introducing the new members recently, Deputy Minister in the Presidency for Performance Monitoring and Evaluation Obed Bapela said he hoped the new leadership would use their talent and knowledge to help government make the NYDA an inspiration to young people.
Deputy Minister Bapela noted that 54 per cent of the population was under the age of 35. This group, he said, had to deal with pressing challenges such as high unemployment.
"We hope that this young leadership will be able to inspire a sense of hope. We also spoke to them [during the meeting] about ensuring a clean administration, that the audit queries are minimised so that they can be in a position to give confidence not only to the young people, but to the entire society of all South Africans," he said.
New NYDA chairperson Yershen Pillay said the board members were honoured by their appointment.
He was confident that they would be able to take the agency forward and address the many challenges facing young people.
"We hope to go to a strategic planning session to identify what the new vision, goals and objectives for NYDA [should be] as a collective."
Pillay said their immediate focus would be on important issues including health, social cohesion and youth service.
"We understand the enormity of the task and hope to restore the credibility to the organisation, gain the public confidence that is in need and through that, create many opportunities for as many young people in the space of three years," he added.
Board member Nyalleng Potloane, from the Free State, represents youth living with disabilities.
"I'm looking for social cohesion, how disabled people can love their country by having zero poverty, zero inequality and zero disempowerment and development for all of us. I need to represent them in NYDA programmes and make sure they are included, and teach people how we can develop together and make disabled people more visible," said an optimistic Potloane.
Other board members are Xoliswa Bambiso, Mothupi Modiba, Zandile Majozi, Maropene Ntuli and deputy chairperson Kenny Morolong.
For more information contact the NYDA on 0800 525 252.