Written by Noluthando Mkhize
Infrastructure
Philani Motha, a father of five, has lived all his life in Doringkop village, in KwaZulu-Natal, without electricity.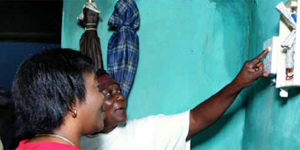 Even though life was tough, Motha always had faith that one day he would be able to turn on a switch and light up his home.
That faith finally paid off recently when Motha's home was among the more than 1 250 households, which fall under the Dannhauser Municipality, that received electricity.
"Life was very difficult and expensive for my family. For as long as I can remember I had to go to the bush to find firewood for my wife to cook supper. In winter we would start a fire inside our rondavel to keep us warm at night." Motha says his wife used to wake up at the crack of dawn to start a fire.
"She had to wake up at 4am everyday to prepare warm water for the children to bath before going to school. Sometimes they would have a cold breakfast if there was no time to start a fire," Motha adds.
His eldest daughter, who is now 24, did not have the luxury of studying in an electrified room and had to study by candlelight throughout the schooling career.
Motha jokes that she drove all the way from the big city of Pretoria to confirm for herself that there was electricity in the area she grew up in.
He explains that the expenses that came with not having electricity affected his subsistence farmer's budget severely.
"At a later stage we decided to buy generators to help with power in the household. It cost R60 to fill five litres in the generator, which lasted for four hours. It was a luxury for us to listen to the radio or watch television," Motha says.
A bubbly Motha adds that after living his whole life without electricity, he is happy that lifestyle is behind him.
"I sit on the couch and listen to the radio during the day while watching my crops and cattle grazing in the fields."
The Dannhauser Municipality is on a mission to ensure that more of its residents can enjoy the same experience as Motha.
It has finalised plans and processes to deliver electricity to every household by March 2014. Recently, KwaZulu-Natal Cooperative Governance and Traditional Affairs MEC Nomusa Dube announced that the remaining 1 000 homes without electricity would receive it within a year, ensuring the municipality achieved 100 per cent electrification.
According to Veli Mdlalose, compliance and public participation officer in the office of the municipal manager, the municipality has spent R31 million on the Electrification of Households Programme since it started in 2010.
Mdlalose attributes the success of the project to a good working relationship between the different parties, which include Eskom, Cooperative Governance and Traditional Affairs KZN and the Department of Energy.
The municipality conducted a door-to-door data-collecting programme to find out how many households needed electricity and with the help of these figures was able to structure the programme and start the process.
For more information contact the Dannhauser Municipality on 034 621 2666.