Amos Soko, 32, has been living and working on Athole Farm in Amsterdam, Mpumalanga all his life.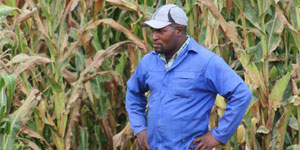 The farm is now set to play an even bigger role in the farmworker's life thanks to a new project started by farm owner and doctor Colin Forbes.
In 2012, Dr Forbes started a land reform initiative by swapping (as he puts it) 10 per cent of his farm, turning it into a training centre for his employees.
He provides mentorship and training in commercial farming, focusing mainly on aspects such as entrepreneurship and managing a farm.
As part of the project, Soko and other farmworkers jointly received 560 hectares of land from Dr Forbes.
Boasting 15 years of experience as a general worker on the farm, Soko now dreams of becoming one of the top five farmers in the country.
"I never thought that one day I will have my own land," said Soko with a smile.
He became Athole Farm's main herdsmen in 2008, taking care of more than 5000 cows. Working with Dr Forbes has taught him a lot about farming and Soko now wants to use that knowledge to turn his dream into reality.
"Over the years, we've learned how to plough the land but we had no clue about how the farming business works. Now we know more and we are willing to learn even further. We made some money in the last year's harvest. We are starting to see some direction and we are very encouraged," he said.
Another farmworker to benefit from the initiative is Thulani Madonsela, who has been working in the farm since 1993.
Madonsela said if other established farmers followed Dr Forbes example the lives of many farmworkers would change. Government would also be assisted in dealing with the challenge of land reform, he added.
Dr Forbes is hopeful that government will buy the land from him and give it to his employees as part of its land reform efforts.
Should this happen, he plans to use 75 percent of the money to build decent houses for the workers.