Written by Samona Murugan & *Molatelo Mokumo
The Department of Correctional Ser vices (DCS) has employed 2 954 unemployed youth in the past two years through its learnership and internship programmes.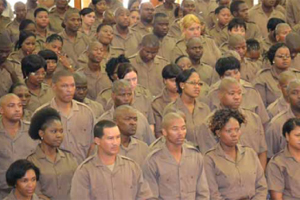 One of those is 32-year-old Bongani Radebe, who says the one-year learnership programme has changed his life forever.
Learners spend the first six months doing basic training either at Zonderwater or Kroonstad Correctional Services College and the other six months doing practicals at a correctional centre.
Radebe was absorbed into the department in March this year and has been placed at the Boksburg Medium Correctional Centre. Before the learnership programme at the department's Zonderwater College, he worked as a packer at a retail store.
"Joining Correctional Services was a life changing experience. Before I joined I knew very little about the intricacies of looking after offenders. I am glad I chose this route because now I contribute fully towards the safety and security of all people by ensuring that offenders are safely in custody," he said.
One of the most fascinating discoveries for him was the many career options available at the DCS. Given these options, Radebe was encouraged to further his studies while working.
Of the 2954 learners, 943 did their learnership in 2011/12 and were absorbed into permanent positions in March 2012, 654 were absorbed in March 2013 and a further 1 006 interns appointed in August are currently in the system, acquiring experience that will enhance their job prospects.
In addition, inmates are also being encouraged to read, study and work as part of their rehabilitation. As a result, several inmates have been equipped with skills including baking, carpentry and bricklaying. These inmates have received certificates on their release from correctional centres.
Correctional Services Minister Sibusiso Ndebele stressed that education was one of the top priorities of government.
"We are in need of dedicated, patriotic and action-oriented young intellectuals, who will contribute to building the kind of prosperous and successful society we envisage.
"This is a society without poverty and under development, where men and women, girls and boys live in dignity with access to opportunities to make their lives better and meaningful," he said.
The DCS's Learnership Programme is one of the pillars of the National Skills Development Strategy. It not only generates skills but also helps alleviate poverty and unemployment.
The Minister said the work correctional officials were expected to do required a special calibre of person.
"Not everyone has the personality traits necessary for success in the field of corrections. Correctional officials must have several personality traits, in order to deal with inmates and handle the stress of long hours in an institutional environment. One of the most important traits for a successful correctional official is tact, or sensitivity, in knowing how to interact with others," he added.
* Molatelo Mokumo works for the Department of Correctional Services.