Written by Galoome Shopane
Kitchen Queens have kneaded, shaped and baked a livelihood for themselves, with a little help from government and their supportive community.
Over two decades ago, a group of women from Qwaqwa in the Free State put on their aprons, got out the flour and mixed up a better future for themselves.
The Leratong Bakery co-operative was started by nine women. Sadly, five of the original members have passed away but the remaining four have not only been able to put bread on the table but have created a strong sisterly bond.
Leratong Bakery supplies nine crèches around Qwaqwa, as well as private households.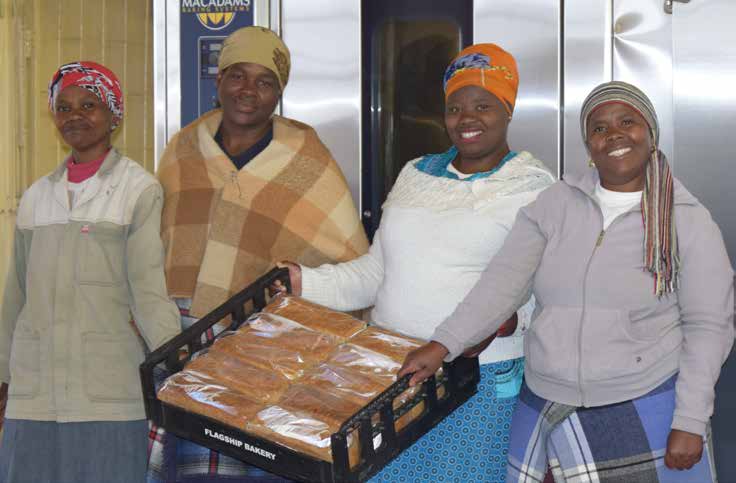 "Everything we do was self-taught and we have worked very hard," said co-operative member Ntsejwa Nkone.
Nkone said that part of their success and sustainability came from the support that they received from their community.
 "Our relationship with community members is very good; they have supported our products and have encouraged us to continue what we do as they love our baked goods."
Nkone explained that they received funding from the Department of Social Development that enabled them to purchase three stoves, a dough mixer, bread slicer, ingredients and allowed them to do some marketing.
"The process was not that difficult and we did not wait a long time. We just went for an interview and we made it," explained Nkone.
The women received further assistance from the National Development Agency (NDA) which trained them in management and operations. The NDA also donated a minivan for deliveries. This all amounted to funding worth about R900 000.
The NDA is an agency of the Department of Social Development.
October is Social Development Month which is aimed at engaging communities to identify their challenges and put together action plans to deal with these challenges.
With the assistance of the NDA the Leratong Bakery has definitely implemented their plan of action by moving their business to new heights and creating jobs.
The bakery has made a name for itsself and are famous for the freshest bakes in town.
Nkone said she is proud of the business's longevity and now wants to incorporate more people into their bakery.
"I hope that the co-operative will grow even bigger so that we can take on and serve more people," she said.
Nkone and her partners hope to infiltrate the market further by supplying local supermarkets with their bread and buns.