Written by More Matshediso
A theatre production by Arthur Molepo titled 'Mama, I Want The Black That You Are" goes to the root of teaching society about the human rights of people living with albinism.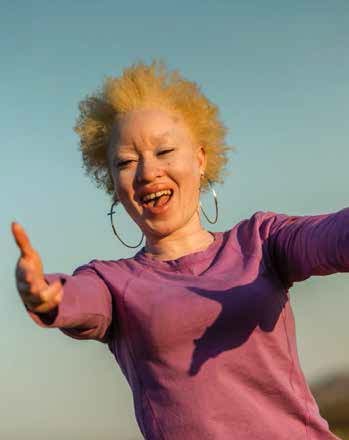 Albinism is a genetic disorder in which there is partial or total lack of the pigment melanin in the eyes, skin and hair.
The play stars Puleng Molebatsi, Regina Mary Ndlovu, Ntsoaki Mathiba, Boitumelo Mathabela and Alister Mbuso Dube.
The play is centred on the life of a 15-year-old girl called Matlakala who has albinism and who harbours a plethora of emotions based on the abuse and prejudice she has suffered from the community because of her condition.
Matlakala comes from a loving family of parents who do not have albinism. To protect them she has kept the social problems she has encountered due to the stigma and myths surrounding albinism, away from them.
Vuk'uzenzele spoke to one of the cast members, Regina Mary Ndlovu (29), who is a professional actress with experience in theatre and film. She is also living with albinism.
Ndlovu plays a demon character who torments Matlakala with the aim of showing her that if she does not do anything about the abuse and discrimination that she is experiencing, she will eventually die.
"Participating in this play means everything to me. It is my life because through my acting I get to teach people and use this platform to tell real stories. It means the world to me because I was victimised for a long time too, I went through abuse and discrimination and I had no voice," she said.
"Through this play I now have a chance to become a woman and a role model that I did not have growing up," she added.
Ndlovu said she can  relate to the storyline of the play  well because she has had first-hand experience of abuse and discrimination.
She said being involved in the is play has taught her that it is not about fighting back but rather educating people  that living with albinism is equally humane.