GO GEORGE  makes affordable and reliable public transport a reality for residents of George in the Western Cape.
Children residing within the George municipality in the Western Cape are catching on to the benefits of public transport through educational, fun games that have been distributed in schools around the area.
The GO GEORGE bus rapid transport system has become an outstanding feature of the local municipality in recent years, making affordable public transport available to most residents in the city's rural and urban areas.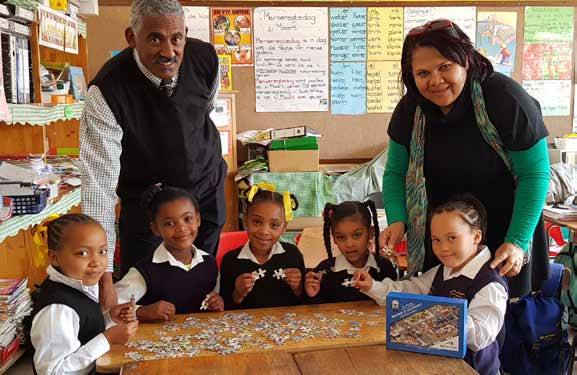 GO GEORGE had the innovative idea of developing educational material that would teach children about the bus service in an entertaining and memorable way.
In November 2017, a GO GEORGE board game was the first item designed for use in schools, to support the current curriculum on public transport. The beautifully designed game contains question cards about the bus service, and a board on which students can 'move' through the city. Question cards were developed for two age groups: six to nine and 10 to 13.
"When learning is fun, it sticks. The board game has provided hours of enjoyment while children learn about the benefits of public transport for the environment and community," said GO GEORGE manager James Robb.
Following the success of the board game, GO GEORGE recently released a 120-piece puzzle targeted at learners in Grades 1 to 3. After completing the colourful puzzle, learners can search for the GO GEORGE mascot, Georgie, in the picture.
Meanwhile, Grade 4 pupils are being educated through an activity book containing fun activities such as a word search, code breaking and a bus route maze.
Currently available in Afrikaans and English, the educational material will also soon be translated into Xhosa.
One of the schools benefitting from the initiative is the Kretzenshoop Primary School in Blanco, which has over 1 000 learners.
Kretzenshoop head of foundation phase teaching,  Moyra Titus said that the children have had fun while learning all about GO GEORGE.
"All of the materials are very colourful and beautifully made. The learners were very excited about the puzzle and the activity books and did not want to stop using them after they began working with them."