Written by Hlengiwe Ngobese
A KwaZulu-Natal woman is a business success, thanks to her own determination and a helping hand from Ithala Development Finance Corporation.
challenging childhood and little formal education did not stop Nokuthula Dladla from following her dream and becoming a successful businesswoman.
The 59-year-old owns Megaphase Roads and Civil, which specialises in manufacturing road signs, road markings and road construction. Founded in 2009, it is based in KwaZulu-Natal and has a satellite branch in Johannesburg. Megaphase has 81 employees and has given many a person denied an education a chance to prove themselves and live a dignified life.
Dladla believes a person's past should not determine their future and this philosophy has helped her win a number of awards, including overall winner of the prestigious annual Technology for Women in Business Awards hosted by the Department of Trade and Industry; and the Operational Excellence in the Manufacturing Sector Award in the Ithala Business Achievers Awards.
Before opening Megaphase, Dladla worked as petrol attendant, a sales person in a furnitu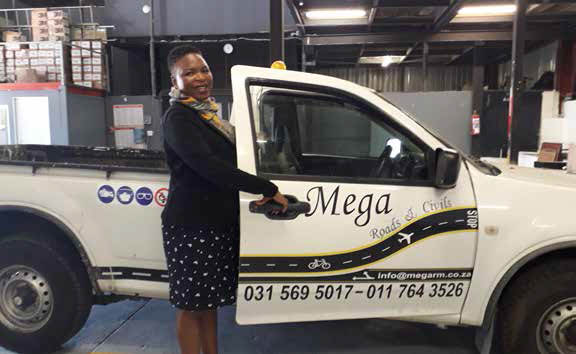 re shop and at a bank. 
"While I was working at Nedbank, one of my clients spotted my potential and snapped me up to manage his road signs business," she said, adding that she earned a top salary and within a few months was driving a Mercedes.
"But my heart was not happy because I had not fulfilled my dream of owning my own company. I eventually stepped out on my own and started this manufacturing business," she said.
She said the biggest challenge she encountered in establishing her business was being taken seriously in a male-dominated industry. "I have years of experience in this sector and know the business extensively. However, I sometimes get sidelined simply because I am a woman," she said.
While Dladla sold the signage manufacturing division of the company in July to empower four employees who started the business with her in 2009, she still runs the road marking and road construction divisions. She said as part of the take-over agreement, she is going to mentor them for three years.
She had this message for entrepreneurs: Work hard on your dreams. Be willing to learn and to make sacrifices and remember there are many government entities willing to fund viable start-ups.