Sport, arts and culture
Arts and Culture Deputy Minister Rejoice Mabudafhasi has called on South Africans to donate their oral history collections to national and provincial archives to help record the country's history for future generations.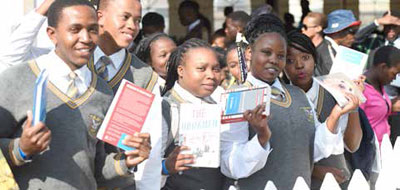 "There isn't enough information collected on the Indigenous Knowledge System and on the histories of black people in general," Deputy Minister Mabudafhasi said.
She added that it was sad that most of the younger generation couldn't even recite their own clan names.
National archives look after and document government and historical heritage records.
Deputy Minister Mabudafhasi was speaking at the launch of National Archives Awareness Week in Limpopo recently. The awareness week took place under the theme "Archives our Living Past".
"I assure you that your donations will be taken care of by our institutions. We have a rich history as a country which needs to be shared with the current and future generations," she said.
Deputy Minister Mabudafhasi added that the National Archives had entered into an agreement with the Auditor-General of South Africa to ensure that all government departments comply with the laws of the National Archives Act and other relevant legislation, which makes reference to the importance of the proper records-keeping.
"We need to ensure that there is a records manager appointed in each department to instill good governance, efficiency and transparency."
Deputy Minister Mabudafhasi said National Archives Awareness Week was aimed at promoting prominence to archival services and highlighting career paths available within the profession.
During the awareness week, learners in Limpopo got a chance to visit the provincial archives in Polokwane, Makwarela, Giyani and Lebowakgomo.
Deputy Minister Mabudafhasi encouraged the public to visit the archive buildings to get a better understanding and see archival functions and services.
Archivists from 13 African countries such as Congo Brazzaville, Botswana, Namibia, Ghana, Senegal, Sudan, Burundi, Egypt, Algeria, Tanzania, Western Sahara and Mozambique participated in archives week programme.
The Deputy Minister said South Africa needs to share ideas and expertise so that it can contribute to making the continent better.
"I am sure that our fellow African countries will take such opportunities to share their experiences, challenges and successes with our archivists and vice versa," she said.