When Moses Letsoalo came back to South Africa after serving two years in Her Majesty's Prison Wormwood Scrubs, in the United Kingdom, he was a changed man.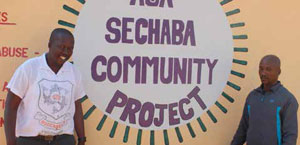 Letsoalo's drug addiction had led him to become a drug mule, which resulted in him spending time in prison away from his family and country.
Today, he is a changed man and the founder of Aga Sechaba Community, which is funded by the Gauteng Department of Social Development and based in Ga-Rankuwa in Pretoria.
The organisation focuses on the awareness and education of the dangers of drugs, through campaigns, referrals and support.
Letsoalo now has 15 former offenders and addicts working as representatives of the organisation across Pretoria and Limpopo.
"Since October 2010, Aga Sechaba has rendered services to over 1 100 families and referred over 320 youth to rehabilitation services," said Letsoalo.
The organisation provides rehabilitation and treatment programmes for alcohol and drug abusers and recreational opportunities, to ensure the prevention of future addiction.
According to the Gauteng Department of Social Development, there has been an increase in the number of young people using drugs and alcohol in the poorest urban areas.
Gauteng MEC for Social Development Faith Mazibuko said in her 2014 Budget Vote that during the 2014/2015 financial year, the department would increase funding to 57 substance abuse treatment centres, providing access to 102 777 service users.
Letsoalo's organisation is one of the non-profit organisations supported by the department.
The MEC said that her department would also ensure that substance abuse treatment centres were properly registered and regulated to prevent the establishment of illegal drug rehabilitation centres.
The South African National Council on Alcoholism (Sanca) also raises awareness of the dangers of narcotics during Drug Awareness Week, which takes place from 24 to 28 June. Letsoalo is one of the people who has shown that there is life after drugs.
According to Letsoalo, recovering drug addicts need support from community members in order to succeed.
"Our young people feel hopeless with no jobs or education opportunities, which makes them venture into drugs. Education plays a big role for the community and parents if they are to understand what it means to be a drug addict, because it's a sickness.
"Parents don't accept drug addicts and when they are trying to get clean, they continue to see the youngster as an addict."
He said his organisation provides awareness and prevention campaigns at schools and crèches.
"We are also educating children in crèches because you find that a seven-year- old is addicted to nyaope."
Nyaope, also known as whoonga, is a cocktail of dagga, heroin, ARVs, rat poison and acid. "The biggest problem in our community is not nyaope alone, but also alcohol. Alcohol is a social symbol in the community, which leads young people to abuse it and experiment with drugs."
Daniel Phosa, 29, a former drug addict and inmate who works with Letsoalo, said there are many things that can lead a person to drugs and one of them is peer pressure.
"Peer pressure is one of the main things that gets young people addicted. The drugs are also a coping mechanism for young people who just want to escape stress and the other problems that they face."
He said he was not addicted to a specific drug, but would use any substance that he could find to help him cope.
"I used to smoke dagga and rock, which is like crack cocaine. I needed to be high to survive because my drug addiction was rife when I was in a correctional centre. I was trying to cope, knowing I was young and had already been sentenced to 13 years in prison."
He added that quitting drugs and making sure that he does not relapse was not easy but, with support from Aga Sechaba and his family, he was able to start his life again and became involved in community work.
"I love everything about my job. In the past, I made a lot of mistakes and this is my chance to give back to the community."
Aga Sechaba is also mentored by Sanca so that it remains a successful non-profit organisation that helps the community. Letsoalo said that he is proud of how he has managed to turn his life around and will continue to give back to the community.
Signs and symptoms of drug use
• Memory lapses, short attention span, difficulty in concentration.
• Poor physical co-ordination, slurred or incoherent speech.
• Unhealthy appearance, indifference to hygiene and grooming.
• Bloodshot eyes and dilated pupils – addicts often use eye drops.
• Chronic dishonesty (lying, stealing and cheating).
• Changes in friends, evasiveness in talking about new friends.
• Possession of large amounts of money.
• Increasing and inappropriate anger, hostility, irritability and secretiveness.
• Reduced motivation, energy, self-discipline and self-esteem.
• Diminished interest in extracurricular activities and hobbies.