Written by Mokgethwa Ngoepe
The new Court Mediation Rules will help resolve disputes faster and settle matters out of court.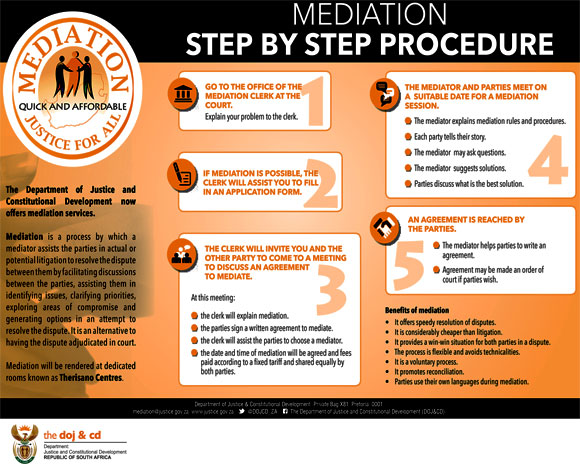 Mediation is a process whereby a mediator helps affected parties, in actual or potential legal action, to resolve a dispute between them. This is an alternative to having a dispute resolved in a court of law.
The Court Annexed Mediation was launched recently in the North West by the Minister of Justice and Correctional Services, Michael Masutha, where 231 mediation clerks were appointed.
Mediation clerks facilitate discussions, help in identifying issues, clarify priorities, explore areas of compromise and generate options to help resolve a dispute.
According to the department, mediators will assist to bring down the number of civil and family law dispute backlog cases. On average, a case can take up to two-and-a-half years to finalise, whilst they could have been resolved out of court and saved each party costs.
Deputy Chief State Law Adviser, Advocate Jacob Skosana, said mediation is being piloted in 12 districts and regional magistrates' courts, nine in Gauteng and three in the North West.
"You simply approach a mediation clerk in the civil section at a magistrate's court, which has jurisdiction in respect of a dispute. A clerk will arrange for the parties to attend a meeting to determine whether their dispute should be submitted to the mediator or not," explained Advocate Skosana.
He added that a mediation process had no court fees, but that a mediator is entitled to charge a certain fee, according to a fixed tariff.
"The parties contribute equally to this fee, which must be paid in court before the mediation process commences," he said, adding that some mediators do act without charging a fee.
A mediator will be a person that the parties choose, with the help of a mediation clerk, from a panel of accredited mediators appointed by the Minister.
Chairperson of the Mediation Advisory Committee, Acting Judge Cassim Sardiwalla, said almost all disputes could be mediated.
"The most important requirement is that there must be a dispute. If a plaintiff is claiming money for work done and a defendant has no defence to the claim, but is simply not paying, then there is no dispute. If, on the other hand, a defendant is refusing to pay because the work was not properly done, there is a dispute," he explained.
Mediation is appropriate for the resolution of disputes between parties who have or want to interact with each other in future.
Advocate Skosana said both parties have the right to be represented if they wish, but they are not forced to.
"Parties who are represented will be responsible for the fees to their legal practitioners," he said.
Advocate Skosana added that parties could also request that a friend or family member be allowed to be present during mediation, to lend support.
The mediation process can take place at any time before a judgment has been made.
The court-annexed mediation rules also state that during the hearing of a matter, a judicial officer can enquire if it should be referred for mediation. The judicial officer can also give parties an opportunity to consider this, in consultation with a clerk or registrar.
*Mokgethwa Ngoepe works for the Department of Justice and Constitutional Development.