Youth matters
Firefighters often put their lives at risk when they are called to put out fires.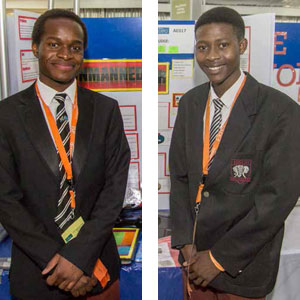 Two learners from Mbilwi Secondary School in Thohoyandou, Limpopo, have come up with an innovative way to deal with this challenge and possibly save lives.
To increase interest in Physical Science and Mathematics, the school encourages learners to enter various science competitions. From the Expo for Young Scientists to the mathematics and science olympiads, learners always take part to increase their knowledge of the science world.
Caleb Kirui (Grade 12) and Fortune Mantsho (Grade 11) have designed a robotic firefighting machine that can be used by firefighters to put out dangerous blazes across the country.
"The aim of this project is to design a device that firefighters can use to gain access to fires without risking their lives.
We saw that many firefighters die in fires and we wanted to do something to help save their lives. "The idea came from the drones used by the US military. All you have to do is use a remote control to direct the device towards the fire and release a pipe connected to it. Water will splash out and put out the fire," explained Mantsho.
The device is made out of a modified, remotecontrolled vehicle and has a hose-pipe dock built in. Aluminum foil and home-made fire resistant coating cover the device for additional heat resistance. In real life, the device would be the size of a big lawnmower and easily portable.
The two teenage inventors participated in the 2015 Expo for Young Scientists. The Eskom Expo arranges 32 regional science expos across the country, managed by volunteers, and one International Science Fair (ISF), where the most outstanding learners exhibit their research or investigative work.
Learners enter their scientific investigation into one of 25 categories, ranging from animal sciences to renewable energy. The best projects from each region are selected to attend the prestigious Eskom Expo for Young Scientists International Science Fair.
The Eskom Expo reaches over 1 000 schools and 100 000 learners nationally during the regional expos. Approximately 700 learners from the 32 regions are selected to exhibit at the ISF..
Eighteen-year-old Kirui said he is confident that their invention would stand the test of time.
"Though it is not 100 per cent at the moment, I'm hopeful that one day it will be and we will see it making a positive impact when it comes to helping firefighters."
The two teenagers had encouraging words for other learners across the country.
"For you to succeed, you have to have passion for what you do and a love for it. Work hard, work smart and things will fall into place," said Kirui.
Mantsho added that science plays an important role in life and if it was not for science, the world would be a poorer place.