Written by Noluthando Mkhize
Emmanuel Mogale, 23, is a young person who finds joy in empowering others.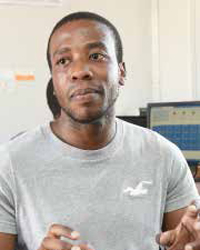 Every week he tutors high school pupils at the Kaalfontein Secondary School in Tembisa, Gauteng.
Mogale is a volunteer for a non-profit organisation known as IkamvaYouth, which gives learners from disadvantaged communities the knowledge, skills, networks and resources they need to access tertiary education or employment opportunities once they matriculate.
"The reason why I come here to tutor young people is because when I was in matric, someone tutored me and believed in me through IkamvaYouth. If I could see majority of these students get good marks and bursaries for university, I will be very happy.
"In this community young people have very limited opportunities to succeed due to economic conditions at home. I want to see a progressive community through education," said Mogale.
It is a subject that is close to Mogale's heart. After completing matric in 2013, the Ikamva- Youth organisation helped Mogale get a Makro learnership.
"Makro offered us a learnership to work for them and at the same time study at the University of South Africa towards a BCom degree in Business Management. Once we have finished this degree we will continue to work for the company.
"If it was not for IkamvaYouth I would not have received this information. I have them to thank," he said.
Mogale tutors English, Physical Science, Sepedi, Geography and Life Orientation.
"I really love volunteering. It gives me a sense of joy that as a young person I am able to empower other young people and give back to the community."
IkamvaYouth was established in 2003 and formally registered in 2004. The organisation has branches in Khayelitsha, Nyanga and Masiphumelele in the Western Cape, Ivory Park in Gauteng, the greater Cato Manor area and Molweni in KwaZulu-Natal.
Tutoring takes place in the afternoons after school, on Saturday mornings and during school holidays.
Juliet Moseamedi, 18, a Grade 11 pupil at Kaalfontein Secondary who wants to venture into biomedical studies after matric, says that since joining IkamvaYouth her studies have improved.
"Since I live in a township, every day after school I would just sit with my friends and do nothing. This is the norm for young people in my area. There was no motivation to do my school work and I did not see it as a priority."
"When I came to Ikamva at the beginning of the year I was motivated to focus on my school work and it's now bearing fruit. My marks are improving and also the level of understanding of my school work has improved," said Moseamedi.
According to Clemence Msindo, the Branch Co-ordinator of IkamvaYouth in the Gauteng Region, learners enrol at IkamvaYouth when they are in Grades 11 and 12.
"In 2014, we had 38 matrics joining Ikamva- Youth and we had an 87 per cent pass rate; in 2013 we had a 100 per cent pass rate."
More than half of the volunteers at longerestablished branches are ex-learners and over 80 per cent of the Khayelitsha management committee is made up of former beneficiaries.
In 2012, IkamvaYouth accommodated 743 learners across the seven branches.
Msindo says the organisation also gives career guidance, which is open to the community and provides education on HIV and AIDS, and mentorship.
"A tutor is allocated five learners to assist with their homework. This is to ensure that learners get the necessary attention."
Ikamva is also open to anyone who would like to volunteer.
Those who would like to volunteer can visit:

www.ikamvayouth.org.za

for more information.