International relations
South Africa and Zimbabwe have strengthened their relationship by signing five agreements that will benefit both countries.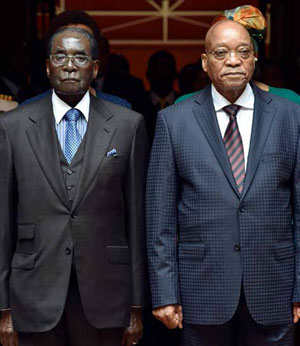 The agreements were signed during President Robert Mugabe's state visit to South Africa, recently.
The two countries signed a Bi-National Commission (BNC) Agreement to be led by the two Heads of State, President Jacob Zuma and President Mugabe.
South Africa and Zimbabwe also signed a Memorandum of Understanding (MoU) on Diplomatic Consultations to ensure that there are regular diplomatic talks on issues such as strengthening bilateral relations, security and cooperation in Africa and other issues of mutual interest.
An Agreement on Cooperation on Water Resources Management was also signed and a Joint Water Commission was established for the two countries to work together in water resources planning, development and management in the spirit of mutual understanding and benefit.
An agreement regarding mutual assistance between customs administrations was also signed. This agreement will further cooperation towards the establishment of a one-stop border post.
South Africa and Zimbabwe also signed a MoU on Trade Cooperation.
President Zuma said Ministers from South Africa and Zimbabwe will work together to ensure that these and other agreements signed over the years are implemented.
Zimbabwe is among South Africa's top three trading partners on the continent, while South Africa is one of the top investors in the Zimbabwean economy.
"Our desire is to have the economy, as well as trade, that favours both countries … that is what we are working towards," said President Zuma.
As part of President Mugabe's visit, a South Africa-Zimbabwe Business Forum was held to strengthen economic relations between the two countries.
The forum looked at untapped opportunities for deeper economic cooperation in the fields of mining, water, energy, infrastructure development, transport and information communication technologies, among others.
Strengthening socio-economic ties
President Mugabe said the state visit was a chance to improve socio-economic relations and that South Africa and Zimbabwe must work together and look at how the two countries can produce better value-added products.
"We are producing resources at primary level but also need to beneficiate them in an integrated manner that yields greater benefit," said President Mugabe.
The two leaders also discussed global and multilateral issues especially the need for the reform of the United Nations Security Council ahead of the 70th anniversary of the United Nations this year.
"We want a United Nations in which there is participation by everybody and recognition of everybody as an equal member," said President Mugabe.