Sport, arts and culture
The community of Kwa- Msane in Mtubatuba, KwaZulu-Natal (KZN), now have access to a gym to help them live a healthy lifestyle.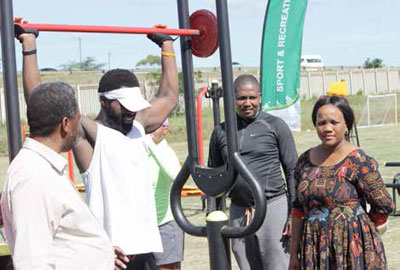 The KZN Department of Arts, Culture, Sport and Recreation handed over a fully equipped outdoor gym to the community recently.
The gym equipment was handed over by MEC Ntombikayise Sibhidla-Saphetha as part of government's programme to promote active and healthy lifestyles in communities.
The department is rolling out outdoor park gyms throughout the province to help people get fit, prevent lifestyle diseases and fight social ills.
The department has built a total of 33 outdoor gyms in the province at a cost of about R16 million over the past three years.
"These outdoor gym parks allow people to have access to gym facilities closer to their homes. We know that many people cannot afford to pay for commercial gyms and in some cases, it is not easy to use streets to run due to safety concerns," said the MEC.
She explained that a community member had been trained to be an instructor, and would guide people with exercise programmes and ensure that the gym equipment is used safely.
"We encourage the community to look after the facility and protect it from being vandalised so that they can leave it for the next generation.
"The gym caters for the youth, adults and children who also have facilities to play," said MEC Sibhidla-Saphetha.
Chairperson of the local sports confederation Celani Mbuyazi said the community welcomed the facility.
"The community has been looking for a facility of this nature and we thank the department for building this outdoor gym for us.
"We will form a committee that will ensure that the facility is looked after and we will engage with the local municipality to improve what we have here," he said.