Written by Amukelani Chauke
Budget Votes
Home Affairs Minister Malusi Gigaba has outlined a number of initiatives that will see his department improve service delivery.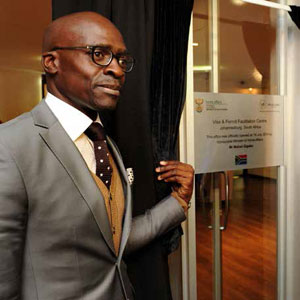 Speaking during his department's Budget Vote Minister Gigaba said as part of improving the overall services, the department will during the current financial year:
Issue 2.2 million smart ID cards.
Grow its footprint by placing Home Affairs kiosks at banks, which will allow the public to apply for ID smart cards and passports by appointment.
Roll-out payment for Home Affairs services by debit or credit card to 140 smart ID card-capable offices.
Begin to upgrade the Electronic Movement Control System at the country's ports of entry to capture biometric data of all foreign nationals entering the Republic. • Introduce enabling legislation for the Border Management Agency (BMA) and pilot aspects of the BMA operating model at selected ports of entry.
Work with National Treasury to develop an innovative funding model to revamp six key land ports of entry.
Finalise a Green Paper on International Migration for public comment.
Increase access to its Visa system by opening two new centres in China, to join the nine new centres that were already opened in India.
Make it easier for foreign students with critical skills to remain in South Africa after graduation.
He added that his department was working on finalising legislation on the establishment of a Border Management Agency.
The agency aims to improve national security and public safety and to enable the efficient flow of legitimate travellers and goods. The announcement was made at a time when there were tensions between South Africans and foreign nationals in parts of the country.
The Minister noted that government had acted decisively to deal with the recent attacks on foreign nationals.
"As you know, we have acted decisively to deal with the unacceptable attacks against foreign nationals in January and April of this year, as we did in 2008," he said.
The Minister was one of several ministers deployed by President Jacob Zuma to Kwa- Zulu-Natal to be on the ground and talk with members of the public and provincial authorities in a bid to restore calm and normality in the province.
"Our on-going work with the Inter-Ministerial Committee on International Migration, the establishment of a Border Management Agency and the policy review process will substantially improve our country's management on international migration and address the underlying issues driving tensions on the issue of immigration," he said.
Department moves to end the late registration of births
The Minister added his department was moving to end the late registration of child-births – a wide spread practice – by December 31, 2015.
As the department strives to clear the population register, the Minister said late registrations of birth could no longer be justified.
"From January 1, 2016, all births registered after 30 days will have to undergo a rigorous process to prove that the child really is a South African citizen.
"The process will be designed to ensure that no genuine South African is at risk of losing their citizenship," he said.