Written by Industrial Development Corporation
New science laboratories are set to make teaching and learning science at the Boithaopo Secondary School in Mahikeng, North West, more exciting.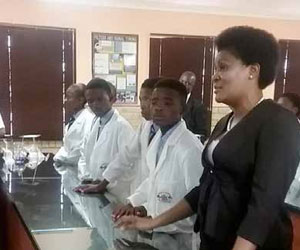 Wearing lab coats and guided by trained technicians, the learners wasted no time in trying out their new laboratories.
"Wearing a lab coat and being in a science lab made me feel like I'm a professional scientist. I am excited to start experimenting with my fellow pupils. I hope the labs will make it easier for us learn and understand Maths and Science," said Lesedi Gontse, a Grade 11 learner at the school.
The new laboratory will enable learners to explore and try scientific concepts and formulas using purpose-designed technology and tools.
Speaking at the launch of the new labs, Deputy Minister of Basic Education Enver Surty said: "This is part of our endeavour to promote Mathematical Science and technology in our schools, particularly in rural schools.
"The launch of the laboratories is important because it provides resources to our learners, equipping them with laboratories despite living in rural communities."
The Deputy Minister added that the laboratories would improve teacher development.
"The educators using the laboratories will know how to use the technology, equipment and resources available. It also convinces learners that Mathematics and Science are interesting through experiencing science practically," he said.
The new laboratories are as a result of an Industrial Development Corporation (IDC) initiative, in partnership with Adopt-a-School.
Since formally adopting it in 2012, the IDC has invested R4.5 million in Boithaopo Secondary School and the rural community of Kraaipan. Because of the investment, the school has received specialised science equipment, teacher development programmes and supplementary programmes for Grade 10 and 11 learners.
The school's water reticulation system has been upgraded and two new life science and physical science laboratories have been provided. The IDC adopted the school to help improve the quality of teaching, boost the number of learners taking Science and Pure Maths, and raise the school's overall matric results. All teachers have been trained to manage the laboratories and use the equipment as a teaching aid.
"The journey does not end with this launch. The IDC will continue to partner with the school to ensure the facilities are optimally utilised and to ensure the facilities are impacting on the learners' results going forward," said the IDC's Divisional Executive Josephine Gaveni.
Norman Phiri, principal of Boithaopo Secondary School, described the opening of the laboratories as a key milestone for the school, and called on the learners to rise to the challenge.
"The school and the community are thankful and very happy. We are inspired and are aiming for level seven results. Our Maths and Science pupils no longer have any excuse not to improve their marks," he said.