Written by Thandeka Ngobese
Siyabonga Shange, a former printing technician, always dreamed of owning his own business.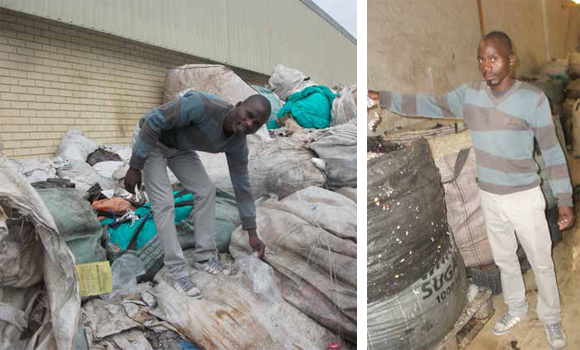 In 2010, he decided to take a leap of faith and resigned from his job to start his own industrial plastic recycling business. He registered his business under the name of Sbumeister Trading based in Pinetown, KwaZulu-Natal.
The company washes old plastic material and grinds it into small pieces using a specialised machine.
In the beginning, he did not have his own premises and had to use the washing plant in Cato Ridge owned by another company. In 2013, he heard about the National Youth Development Agency (NYDA) and approached it for funding. The agency gave him R30 500, which he used to refurbish a broken wash plant machine donated to him by one of his clients.
In 2014, the agency gave him another R50 000 to help with overhead costs. The company was also growing and the number of employees at the recycling plant increased from seven to 14 permanent employees and six casual workers.
In March this year, the Small Enterprise Finance Agency (Sefa) gave Shange and his mentor and business adviser Berry Smith, a former bank employee, R1.9 million in funding to buy a new wash plant machine and to move to new and bigger premises.
Sbumeister Trading cc operates around the clock, with a day and night shift.
"It becomes very stressful when there is load shedding because the production stops. But this challenge will be a thing of the past with the new wash plant machine as it uses both electricity and a generator.
"I purchase my material (old plastic) from the four biggest companies: Nampak, Interwaste, Enviroserve and eThekwini foods, which helps me a lot because I never run out of stock. The material is always there," he said.
Nontsikelelo Bhengu, 32, a female machine operator at Sbumeister Trading cc said she enjoys her work because it helps her to provide for her mother and child.
"I enjoy my job. I don't have any plans to move from this business. At home I make sure that I collect old plastics because I now know that it is not just dirty plastic but it is money. One of my future plans is to open my plastic recycling business as I have gained a lot of experience here," she said.
Shange's advice to the youth is to persevere and focus on their dreams.
"Challenges are there but if you are focused, you can overcome any challenge that comes your way," he said.
NYDA Executive Chairperson Yershen Pillay said seeing how the lives of NYDA beneficiaries have changed through the NYDA Business Grant Programme in KwaZulu-Natal is inspiring for the agency.
"We encourage young aspiring entrepreneurs sitting at homes to come to our offices to enquire and get more information on what is on offer," he said.