Written by Amukelani Chauke
Budget Votes
As government strives to deliver quality homes to all citizens, Human Settlements Minister Lindiwe Sisulu has called on beneficiaries to take care of their homes.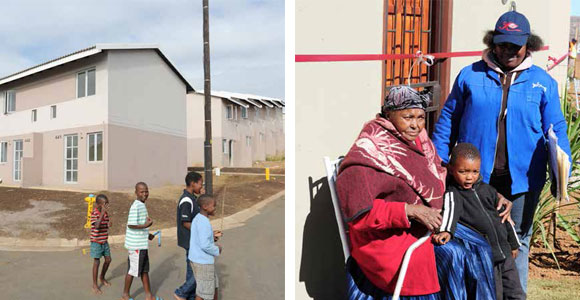 The Minister made the plea as part of her department's Budget Vote proposals that were tabled in Parliament recently.
She said houses were valuable assets and that beneficiaries should take care of them.
"A beneficiary of a house has a responsibility to fix a broken window or door latch when it is broken.
"We are embarking on a nationwide consumer education to empower our people to understand the value of the houses they own, the importance of caring for it and most importantly, why they must not easily sell it to address short term challenges.
"In partnership with one of our entities, the Estate Affairs Agency Board, we will educate them on how the property market works," she said.
The Minister added that beneficiaries should not sell their houses until they have lived in them for eight years.
She said the first buyer to the low-cost houses should be government, and that her department would regulate the sale of the houses to ensure the sale is legal, and that the seller is informed and able to make an informed decision.
"The department aims to build 1.5 million houses and create housing opportunities to accommodate a growing housing backlog."
"I would urge that beneficiaries of government's free houses should carefully consider before selling. This is possibly the only asset they can bequeath their children."
Reducing the housing backlog
Minister Sisulu said that her department was working hard to reduce the housing waiting list backlog and that elderly citizens would be prioritised over young people because they have been waiting longer to get a house.
"Young people need to strive to educate themselves, get skills and access job markets in order to afford their own homes," she said.
The department aims to build 1.5 million houses and create housing opportunities to accommodate a growing housing backlog.
The Minister said her department was exploring partnerships to ensure that this target is met.
"Following the Human Settlements Indaba last year, we signed a social contract with the Banking Association of South Africa."
Houses to be built in mining towns
The Minister said her department would rollout decent housing to 22 mining towns in six provinces, as per President Jacob Zuma's directive.
The President appointed an Inter-Ministerial Committee last year to focus on revitalising distressed mining towns.
"For the last financial year, more than 4 000 units were delivered, mainly in Mpumalanga and North West, which are the main pressure points.
"In the Marikana area, there are two human settlement projects being completed that will deliver over 500 units built on land donated by Lonmin.
"Anglo American has embarked on a project to provide more than 10 000 housing units," she said.
Department to abolish hostels
Minister Sisulu also announced that those that have lived in hostels for years could qualify for a Breaking New Ground (BNG) house or the Community Residential Units Programme (CRU) subsidy.
A BRG is a programme where government does not only build houses but builds sustainable settlements that are habitable, and have services such as schools, and clinics, amongst others.
The CRU subsidy is a programme that aims to provide secure and stable residential low-cost rental opportunities for families and single persons.
"Together with the Mayors, we have agreed that the upgraded hostels would be bought by the SHRA and managed as social housing projects. This we will do in every town where we have upgraded hostels and hostel dwellers have not taken up residency. The message we want to send to hostel dwellers is that we have understood your concerns and responded to your pleas. We request that you allow us to put you up in temporary shelter while we build permanent units for you."
She said preference would be given to under 40s who do not earn enough to buy a house.
Youth empowerment
The Minister also announced that her department had started the 'One Learner One Estate Agency' Youth Brigade programme, with the aim of placing interns with a registered estate agency for a period of 12 months.
The Minister said this would equip intern estate agents with the required property market experience while they obtain the necessary real estate qualification.
"The Estate Agency Affairs Board has so far received over 1 450 pledges from registered Estate Agencies and more than 7 500 CVs of potential candidates.
"Out of the project, by the end of the financial year we will have 10 000 young people working and getting trained as estate agents," she added.