International relations
South Africa has lent a helping hand to Sri Lanka by sharing experiences about the Truth and Reconciliation Commission.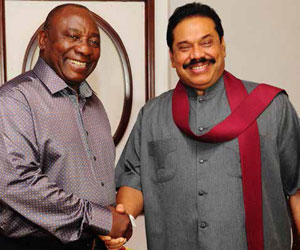 Deputy President Cyril Ramaphosa was in Sri Lanka recently as a Special Envoy of President Jacob Zuma and visited President Mahinda Rajapaksa. South Africa was invited by the Sri Lankan government and the Tamil National Alliance to share the country's experiences and lessons learnt from the Truth and Reconciliation Commission as an integral part of their negotiated political settlement.
Ahead of the visit, Deputy President Ramaphosa said: "We will discuss with people in the community. We will also try to help the Sri Lankans with the Truth and Reconciliation process, their own constitutional reform and make sure Sri Lanka does indeed become a stable country where they will enjoy human rights."
Deputy President Ramaphosa met with various political leaders and delegations.
He was accompanied by International Relations and Corporation Deputy Minister Nomaindia Mfeketo, High Commissioner Geoff Doidge, senior government officials, members of the South African civil society.
In February, President Zuma announced that Deputy President Ramaphosa had been appointed as South Africa's Special Envoy to Sri Lanka and South Sudan. His appointment came at the request of Sri Lanka and South Sudan for assistance in bringing about peace and reconciliation.
"His expertise in conflict resolution and negotiations, as well as our country's experience in this regard, will greatly assist the two countries to resolve their problems," said the President during his State of the Nation Address.