Infrastructure
By 2019, power cuts will be a thing of the past and energy reserves in the country would have increased significantly thanks to the new power station under construction in Mpumalanga.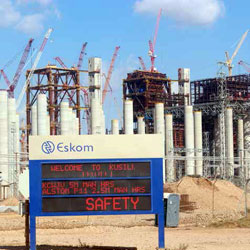 Kusile, the second power station to be built by the democratic government, is expected to open in 2019 and will help take a load off the current electricity grid.
Kusile is an Ndebele and Siswati word meaning "the dawn has come".
The Kusile project includes a power station precinct, power station buildings, administrative buildings (control buildings and buildings for medical and security purposes), roads and a high-voltage yard, all on a 4 500 hectare site.
The infrastructure will include a coal stockyard, coal and ash conveyors, temporary and permanent water supply pipelines, temporary electricity supply during construction, water and waste water treatment facilities.
The site will also include ash disposal systems, a railway line, limestone offloading facilities, access roads (including haul roads) and dams for water storage, as well as a railway siding and/or a line for the sorbent (limestone) supply.
The station will be the fourth largest coalfired power station in the world.
Kusile Power Station General Manager Abram Masango says when the power station is complete, the country will reach the international standard of having 15 per cent of energy reserves.
Similar to its sister station, Medupi in Limpopo, Kusile will consist of six units each generating approximately 800MW with a combined total capacity 4 800MW (which is enough electricity to light up most of Cape Town).
The first unit will be operational in 2015, while the five units will be commissioned at eight-month intervals, the last of which is expected to be in operation by 2019.
Thousands of jobs have been created thanks to the power station.
Currently, there are 17 000 people on the construction site creating what Masango calls "organised chaos".
"We've got more than 120 companies employing these 17 000 people to construct the portion that they are contracted to do," he explains.
Most of the workers are locals who form the bulk of the non-skilled and semi-skilled workforce.
"When we started mobilising these contracts we agreed that contractors could bring their core people who would form 40 per cent of the workforce, while the remaining 60 per cent would be employed from the community," Masango adds.