Budget votes
Cooperative Governance and Traditional Affairs Minister Pravin Gordhan has set the bar high for municipalities, saying they must have sound financial management in the next five years.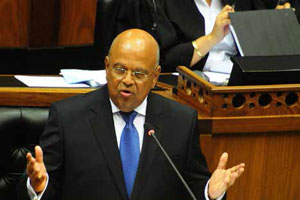 Speaking ahead of his Budget Vote, the Minister said: "Every municipality should have a sound and functional management system with the appropriate level of internal control. Municipalities should also cut wasteful expenditure and focus expenditure on investment infrastructure in performing the service delivery role that they are required to perform."
Every municipality will be asked to deliver a basic basket of services as efficiently and diligently as possible, which will be monitored by both the provincial and national government, he added.
"What we mean by this is that we have to make sure that robots are working, potholes are sealed, water is delivered, refuse is collected, electricity is in supply… and that cutting of grass, which is the core to keeping the environment clean, is being carried out. These basic services must be performed by all 278 municipalities," Minister Gordhan said.
During the Budget Vote, the Minister reflected on the progress made over the past 20 years. "As we celebrate 20 Years of Freedom, we must recognise the tremendous strides we SAnews have made in eliminating 1 100 racist local structures and creating the foundations of a new system of democratic local government.
"Local government has played a significant role in addressing access to basic services: water, energy, waste, sanitation, transport, and human settlements," he said.
The aim is to now ensure that every municipality performed their basic responsibilities without compromise, he added.
This included:
A basket of basic services:
Basic services and maintenance such as cutting grass, patching potholes, working robots and streetlights, consistent refuse removal, must be provided by municipalities.
Governance:
All municipal council structures must be functional.
Oversight committees must be in place and perform their responsibilities, without any interference.
There must be transparency and accountability on the outcomes of these processes.
Administration:
All municipalities must enforce competence standards for senior managers and appoint persons with the requisite skills, expertise and qualifications.
All senior managers must sign performance agreements.
Performance management systems must be applied in accordance with the law.
Sound financial management:
All municipalities must have a functional financial management system.
Rigorous internal controls.
Cut wasteful expenditure.
Act decisively against fraud and corruption.
Substantive community engagements and participation:
All councillors must report regularly to their wards.
Municipalities must have clear engagement platforms with communities.
Transparent, responsive and accountable processes to communities.
Service delivery:
Municipalities must develop new infrastructure at a faster pace while adhering to the relevant standards for such infrastructure.
The department, working with Provincial Departments of Local Government, SALGA and other key institutions will establish compliance monitoring capability and introduce mechanisms for managing consequences for non-compliance and poor performance.
While noting the rights of communities, the Minister also spoke out against protest action that turned violent.
"We cannot tolerate the destruction of property and the violent nature of protests, especially when they assume a criminal character and start impacting on the rights of others, and reversing the state investment in community infrastructure. Citizens and communities have rights and corresponding obligations, and must keep their side of the bargain," he stressed.