Budget votes
President Jacob Zuma says plans to revitalise the public service are currently being rolled out in all departments.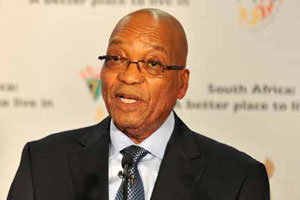 Delivering the Budget Vote for The Presidency, the President said this would achieve a better society, a professional, people-centred, effective, efficient and disciplined public service. "Beyond the major projects and work of departments, we will also monitor the human aspect.
"We will assess the manner in which enquiries and complaints from the public are handled, the courtesy and friendliness of staff and the speed with which members of the public are attended to.
"In this regard, the Batho Pele citizen care programme is being revitalised and will be mainstreamed in every department in order to improve performance and services to the public," he said.
The President noted that through the Department of Planning, Monitoring and Evaluation, progress in improving the performance of all departments was being monitored.
He added that working groups would be formed to ensure that a clear path to address socio-economic challenges is drafted and established over the next five years.
Among the new working groups being establish are the Presidential Small Business Working Group, the Presidential Working Group on Disability and the Presidential Working Group on Communication and Media.
"We will… establish a Presidential Small Business Working Group, which will bring together organisations representing small business owners and government to chart a path for supporting small enterprises."
President Zuma said a Working Group on Labour would bring together leaders of major labour federations and government leaders and the community sector to seek joint solutions to the challenges facing all sectors.
Issues that have already been placed before the committee include the national minimum wage proposal and the impact of protracted strikes.
He added that the new Working Group on Disability would enable The Presidency to champion and monitor the work of government departments and society "in creating a better life for persons with disability".
The launch of a Working Group on Communication and the Media was being finalised, with the aim of bringing together government and organisations from community and commercial media sectors, said President Zuma.