Sports
Future sport stars from Gugulethu in the Western Cape now have the opportunity to perfect their skills after a new multi-purpose sport court was opened in the area.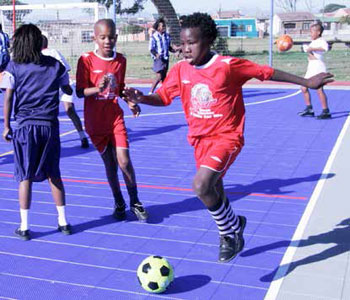 Built by Sport and Recreation South Africa (SRSA) in partnership with the Sports Trust and the Western Cape Departments of Cultural Affairs and Sport (DCAS) and Education, the sport court was recently unveiled at the Nobantu Primary School.
The Sports Trust is a joint venture between the private and public sector aimed at providing opportunities for all South Africans to play sport at all levels, across the sporting codes.
Costing R1 million, the new sport court in Gugulethu has a 20-year lifespan.
According to DCAS, the court floor and facilities were specially designed to cushion players, making playing sport safer particularly for young learners, while the courts are also environmentally friendly.
Schoolchildren from Nobantu Primary and neighbouring schools are using the sport court playing soccer, netball, basketball, tennis and volleyball there.
Nobantu Primary School principal Linda Appolis hopes that the new sports facility will be a base for future sport achievers and leaders in Gugulethu.
"We will be sharing the court so that other schools in the area and local sport clubs can benefit from this amazing new gem in Gugulethu," said Appolis.
Soccer fanatic Siphosethu Mzwathali, 13, was overjoyed with the new facility, where he spends all his free time improving his soccer skills.
"My friends and I can now take our sport to another level, and we can be great soccer stars one day," he said.
According to Anita Matthews of the Sports Trust, the new facility is expected to boost education through sport.
"This court will be an integrated hub where the whole community can take pride in participating in the joy of sport."
The new centre is one of the provincial government's efforts to boost a healthy lifestyle among communities.
"By linking physical exercise through education, we are ensuring a good quality of life for the people of the Western Cape. Through quality infrastructure and programmes like these are essential for leaving a lasting legacy in communities," said Thabo Tutu, sports promotion coordinator at DCAS.