After concluding a very eventful Nelson Mandela Month, it is once more my delight to lead our nation in another important month in our national calendar, Women's Month, in August.
The democratic Government deliberately decided, 20 years ago, to dedicate August to the women of this country, in order to acknowledge their role in bringing about the freedom and democracy we enjoy today.
During August we also reflect on the progress made in our commitment to improve the political and the socioeconomic conditions of women and to renew our efforts at addressing whatever backlogs still hold women back in various areas and sectors.
We commemorate Women's Month this year under the theme: "Celebrating 60 Years of the Women's Charter and 20 Years of Democracy: Moving Women's Agenda Forward".
The celebration of the 60 years of the Women's Charter is also within the context of other developments in the continent, such as the African Union's (AU) Agenda 2063, where AU member states re-affirmed their commitment to promote women's empowerment and gender equality.
These commitments, outlined in the AU Vision and Solemn Declaration for Africa, can be juxtaposed with the eight aims of the Women's Charter of 1954 and the Women's Charter for Effective Equality of 1994 and are envisaged to inform the Post-2015 Development Agenda for Africa and the international community.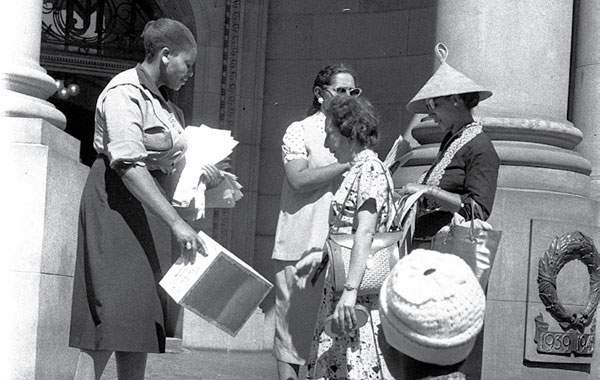 This month we also mark National Women's Day on 9 August. This day marks the historic 1956 march of 20 000 women to the Union Buildings against pass laws on 9 August. Thousands of women heeded the call to march, led by amongst others, the courageous Lilian Ngoyi, Helen Joseph, Rahima Moosa and Sophie de Bruyn.
We salute all these women who fought for freedom and democracy. They are our perpetual source of inspiration as we work together as a nation to take this country forward. In their name we salute many women who gave their lives, their children and their entire families to the struggle. We also salute many women whose daily toil in various trades makes this a better country for all of us.
The celebration of the 60th anniversary of the Women's Charter reminds us of the commitment made in that document in 1954. Women committed themselves to strive for the removal of "all laws, regulations, conventions and customs that discriminate against us as women, and that deprive us in any way of our inherent right to the advantages, responsibilities and opportunities that society offers to any one section of the population".
The women further said that "freedom cannot be won for any one section or for the people as a whole as long as we women are kept in bondage."
As we celebrate 20 Years of Freedom and 60 years of the Charter, we look back at the many milestones that we have achieved as a nation to advance gender equality in our society, thanks to the ANC government and also key organisations such as the ANC Women's League.
The transformation programme led by the ANC Women's League has informed the strides made since 1994. Prior to 1994, the South African Parliament had a paltry 2,7 per cent representation of women, while after 1994 they rose to 27,7 per cent, increasing to 30 per cent in 1999 and then to 32,7 per cent in 2004.
After the 2009 national elections, women representation reached 42 per cent, rising to 43 per cent of the Cabinet, while women deputy ministers made up 46 per cent of the total number of deputy ministers. This year, 2014, I appointed 20 men and 15 women as Ministers as well as 20 men and 17 women as deputy ministers. We are moving closer to the 50-50 target.
The quota is another achievement of the ANC Women's League, gained at the ANC's 2007 national conference in Polokwane. We congratulate other women's organisations including non-governmental organisations that continue to advocate for women's empowerment and development.
Among our country's institutional achievements in recent times was to mainstream women's issues from women's desks in various departments to a fully-fledged department in 2009.
The Department of Women is now based in The Presidency to give focused and exclusive attention to women's issues. In the same manner, our government also mainstreams and entrenches gender equality and women empowerment across all the departments so as to deepen transformation in society.
We also have Chapter 9 institutions, some of which are headed by women, whose core function is to ensure constitutionally informed and entrenched transformation of society.
The transformation programmes are informed by progressive laws that have been passed in the past 20 years. Examples of these laws include the Employment Equity Act of 1998, the Promotion of Equality and Prevention of Unfair Discrimination Act, 2000 and various other laws in the society that fundamentally reversed the effects of retrogressive laws such as the Black Administration Act 1927.
For the past 20 years, basic delivery of such services as housing, water and electricity has also prioritised the most vulnerable in our society: women, children and the elderly. In the health sector for example, a key intervention has been the provision of free primary health care, and together with the broadened social security net to include 11.7 million children, government has eased the burden off poor women, who struggle to feed their children.
These interventions have also had other spinoffs of fundamental change in the society. For example, there are more girl leaners in schools and tertiary institutions. We continue to work hard to promote safer communities, working with our people to eradicate violence against women and children.
Besides what government is doing, this month is also about celebrating the role of women in every corner of our country. We salute women who raise children alone under difficult conditions. We salute women workers in the factories and the farms who toil as important members of the work force in our country who need to be recognised as such.
August is also the month in which we recommit ourselves to ensuring that women have access to services such as water, electricity, housing, education, health and social assistance to name just a few. We also recommit ourselves to ensuring that women do not have to walk long distances to fetch water or to collect firewood.
We undertake to continue working tirelessly to expand access to these basic services. We will work tirelessly to fulfill these undertakings regardless of how long it takes.
Lastly, true liberation comes through economic freedom, which is why in many government projects we ensure that women's empowerment is always a key criteria.
Many government departments take this commitment very seriously and have introduced special mechanisms to empower women.
For example, the Department of Trade and Industry has special funding mechanisms for women's projects while the Departments of Human Settlements and Public Works support and entrench women in the construction industry. Science and Technology promotes women in technology and so do departments in other sectors.
Slowly but surely, we are building a South Africa where women and girls will have a brighter future. Let us all make this month eventful and activity-based, to promote the lives of women as we move South Africa forward.
Malibongwe igama lamakhosikazi.