Budget votes
South Africa is stepping up the fight against HIV and AIDS, ensuring that as many HIV positive citizens as possible are put on antiretroviral (ARV) treatment.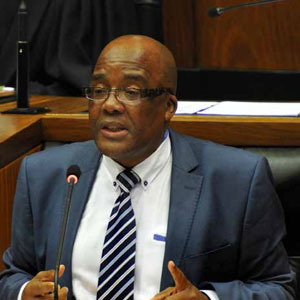 Soon government will make ARVs available to those with a CD4 count of 500 and less, Health Minister Aaron Motsoaledi announced during his Budget Vote.
"As from January 2015, we shall start HIV positive patients on treatment at the CD4 count of less than 500, as against the present CD4 count of less than 350," he said.
HIV positive pregnant women will also be put on life long treatment regardless of their CD4 count.
The Minister said all HIV positive pregnant women would be moved to the World Health Organisation's option B+ as opposed to the current option B, that is operation in the country.
"Option B+ simply means every pregnant HIV positive woman goes on a lifelong treatment regardless of their CD4 status, whereas option B is that they stay on treatment only while breastfeeding, and stop after termination of breastfeeding if their CD4 count is more than 350. Option B+ is lifelong treatment regardless of CD4 status," he explained.
Minister Motsoaledi noted that the country had come a long way with its HIV and AIDS policies over the years.
In 2009 President Jacob Zuma announced a new HIV and AIDS policy, dictating treatment for HIV positive people with a CD4 count of 350 against the former 200 for special categories of patients.
"In September 2011, then Deputy President Kgalema Motlanthe, expanded this to everybody to make it universal at CD4 count 350. It is a further milestone that we are announcing treatment for all at CD4 count of 500."
Government will continue to promote a number of prevention methods to help stem the spread of HIV and AIDS.
"Treatment of as many people as possible has been found by research to be also a form of prevention. So this massive treatment programme will also be accompanied by a wide range of prevention techniques including massive condom distribution, HIV Counselling and Testing (HCT), Prevention of Mother To Child Transmission, sexually transmitted infections management, massive medical male circumcision for which we are targeting four million men by 2016," the Minister said.
Other methods will include information, mass education and communication.
"We also know that keeping girl children at school at least until matric, protects them from pregnancy and HIV/AIDS acquisition," he added.
The Minister said it was his department's plan to create a generation of under 20s who were free of HIV and AIDS.
Minister Motsoaledi added that of the 52 million people in South Africa, 35 million were between the ages of 16 and 64 (those considered sexually active). This group need to be prioritised for HCT.
"Our next step is to increase coverage this means testing most if not all of the population annually, initiating everyone who is positive on treatment regardless of CD-4 count and supporting all those that are on treatment.
"It will mean mass testing in every possible setting schools, universities, workplaces, churches and communities," he said.