The Department of Science and Technology is set to intensify efforts to produce more scientists in the country.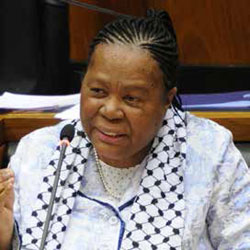 Minister of Science and Technology Naledi Pandor, has set out the plans for her department for the next five years, which includes investing in more science graduates.
Minister Pandor said in its workplace preparation programme, the department provided opportunities for 700 young and unemployed graduates to gain the relevant work experience in science, engineering and technology institutions.
She said in the coming years, the programme would grow to provide support to about 1 000 graduates and postgraduates at an annual cost of R80 million.
The department intends to invest R400 million a year to support postgraduate students.
"We need to massively expand funding in this programme to increase the number of knowledge workers in South Africa. "The DST and its entities will therefore continue to focus on overcoming the challenges facing the South African science, technology and innovation sector, including human capital development and the continuous modernisation of scientific infrastructure such as laboratories and IT equipment, so that we can unlock the potential of science, technology and innovation to contribute to economic growth," she said.
In her Budget Vote, the Minister said R3.5 billion of her department's R6.47 billion budget for 2014/2015 will be allocated to research and development.
R1.7 billion will be spent on research grants and bursaries.
"The National Development Plan sets a target of 100 000 PhDs by 2030 to improve research and innovation capacity. In order to reach this target we need train 6 000 PhDs per annum. We now produce just over 1 800 PhDs per year. To train 6 000 a year will cost an additional R5.8 billion a year," she said.
A PhD is a doctoral degree.
The Minister said her department also wanted to create more female and black researchers.
Currently, 28 per cent of researchers in the country are black and the Minister wants this figure to increase to 40 per cent by 2017.
Females make up 36 per cent of the country's researchers, a figure the Minister hopes will increase to 50 per cent by 2017.