South Africa is steadily making gains towards achieving women's empowerment and gender equality.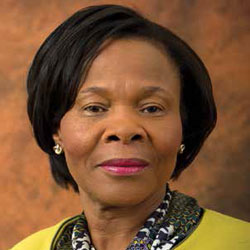 This August, South Africans have reason to celebrate not just Women's Day but also 20 Years of Freedom and the 60th anniversary of the adoption of the Women's Charter in 1954 by the Federation of South African Women.
Each year South Africa observes Women's Day on 9 August, remembering the 20 000 women who fought for freedom and marched to the Union Buildings in 1956 in protest against the legislation that required black South Africans to carry their identification pass. President Jacob Zuma paid tribute to the women who helped shape democracy when he addressed the Women's Day event in KwaZulu-Natal.
The theme for Women's Month is "Celebrating 60th Anniversary of Women's Charter and 20 Years of Freedom: Moving Women's Agenda Forward!" The Women's Charter outlined the aspirations of women for national liberation, emancipation – including political participation of and equality for women. The Women's Charter for Effective Equality was launched on Women's Day in 1995. These two charters provided a platform that called for respect, human dignity and rights for women.
Leading this year's Women's Month campaign is Minister of Women in The Presidency Susan Shabangu.
The Minister urged all South Africans to work with government to address the challenges that women face.
She said that despite the many strides women have made over the past 20 years, social and economic ills still plagued many of them.
"We still have women who are very dependent on social grants as their only source of income; women who struggle to get maintenance for their children; women who are beaten by their partners; black women who suffer oppression under customary law; women who are raped and some even killed. We need to turn this around and fast," said the Minister.
To help the Ministry achieve this, Minister Shabangu said for the next five years her focus would be ensuring that women are major players in the economy and benefit from initiatives of both the public and private sectors. One of the major issues that affect women is unemployment.
"We are working towards ensuring that women are properly skilled, trained and developed for the workforce. Once a woman is equipped with the right tools, she is able to transform her life," she pointed out.
The Ministry will also work with other departments such as those of Social Development, Justice and Correctional Services, Basic Education and Higher Education and Training to roll out several community outreach education and awareness programmes highlighting women's empowerment and tackling violence against women.
"The central message we want to highlight as we move South African women forward is nothing about women without women. We need to move women from the status of victims to victors by ensuring that they are not left behind."
The Minister added that many women were trapped in abusive relationships because they had nowhere to go and no skills to find work.
"This is why we are working on various programmes tackling skills development to be rolled out soon. We want to see women in society being able to break the glass ceiling. A woman must empower herself, stand up for herself, she must not accept abuse, she must not accept being inferior, she must know her worth and she must have the tools to change her life."
She called on South Africans to celebrate and honour the women who sacrificed their lives to make sure that women in the country now have the opportunities they did not enjoy many years ago.