Budget votes
Rural Development and Land Reform Minister Gugile Nkwinti says youth empowerment will remain a priority in his department's economic transformation programme.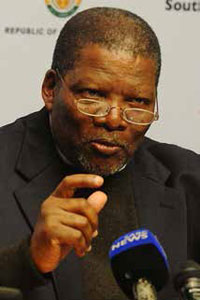 "The department is in the process of establishing a Mega Cooperative for the 14 000-strong National Rural Youth Service Corps (Narysec) participants.
"The envisaged cooperative will be memberowned, with strategic support from the department and other sister departments such as the Departments of Trade and Industry, Agriculture, Forestry and Fisheries, and Small Business Development, the private sector and state-owned entities," he said.
Minister Nkwinti was speaking during his department's Budget Vote in Parliament.
Narysec was established in September 2010 to recruit and develop rural youth, so they can perform community service in their own communities. The programme has been hailed as a skills development hub, with 6 000 Narysec participants graduating in a ceremony earlier this year.
Developing women
Women development is also a concern for the department. Recently, it launched the first rural women-owned arts and crafts retail shop and warehouse in Durban.
Minister Nkwinti said this would serve as a market and retail facility for enterprises of rural women in arts and crafts.
Recently, the department met 477 delegates from 93 arts and crafts cooperatives, where a decision was taken to establish a Mega Cooperative.
Focus for 2014/15
The department, through its Rural Enterprises and Industries Development Branch, has prioritised five commodities. These are:
Grains: maize, wheat, soya beans and dry beans.
Vegetables, including indigenous vegetables and medicinal plants.
Livestock: red meat and wool.
Poultry: caged broilers and free range.
Arts, crafts and apparel.
Minister Nkwinti said the focus of his department in the 2014/15 financial year will be on communal land tenure, communal property associations, regulation of land holdings, electronic deeds registration and the extension of security of tenure for farm dwellers, tenants and workers.
Deeds registration
Minister Nkwinti said the electronic system the department planned to implement through the Electronic Deeds Registration Bill, would allow it to achieve universal, countrywide access to deeds registration and surveyor-general services.
This will decrease the turnaround time for approval and registration of property.