Budget votes
The Department of Trade and Industry (dti) is set to increase support for the automotive and clothing sectors, according to Minister Rob Davies.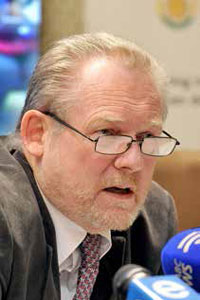 "Firstly, we see acceleration in the automotive sector, where the Automotive Production Development Programme (APDP) has already supported significant new investment in the sector. Projected capital expenditure for 2014 is anticipated to reach a record level of R7.9 billion," said the Minister during his Budget Vote.
The APDP's objective is to raise the volume of cars manufactured in South Africa to 1.2 million annually by 2020, as well as diversify the component chain.
In other efforts to grow the sector, the Automotive Supply Chain Competitiveness Initiative (ASCCI) was launched last year to enhance localisation, production and supplier capabilities. Minister Davies said this was proving to be a success, and his department would continue to expand the programme.
The country's automotive sector employs more than 100 000 people.
"It is an important sector and we will continue to support it," he said.
Clothing, textile sector
Another important labour absorbing sector for South Africa is that of clothing, textiles, leather and footwear.
The dti has managed to stabilise this sector through improved monitoring of imports to ensure compliance with customs and excise regulations and to reduce unfair and illegal imports.
It has also been stabilised through the designation of the sector under the Preferential Procurement Policy Framework Act (PPPFA) and collaboration with key retailers to encourage local procurement.
The introduction of the Clothing & Textile Competitiveness Programme (CTCP) in 2010 has also helped.
"In the coming year, the department will continue to roll out the CTCP to reach more companies within the sector and I will announce in the near future details of a significant programme to increase value addition in the exotic leather and animal hide industries through the National Exotic Leather Cluster," Minister Davies said.
Local companies
The dti will continue to play its role in ensuring that government procures 75 per cent of its goods and services from local companies. The dti has already designated goods and services such as power pylons and pharmaceuticals.
The next designation of products for government procurement includes steel and building and construction materials, among others.
Minister Davies encouraged the private sector to buy more from local companies.