After years of doing voluntary work for non government organisations, Nomsa Leshalabe took the plunge to set up her own business in 2007.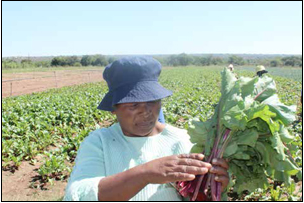 She clubbed together with her brother, Mashupye Matlala to form the Advidata Farming Co-operative in Toitskraal, some 30 kilometres from Marble Hall in Mpumalanga.
With funding from the Land and Agricultural Development Bank of Southern Africa (DBSA), they bought 230 hectares of land in Toitskraal and set about farming.
Today, the farm, which produces beetroot, sweet potatoes, maize, wheat and soya beans, employs 22 people and an additional 40 during harvest time as casuals. During the 2012 harvesting season, the farm produced 32 tons of mealies. It supplies vegetables to the community and businesses such as Pick n Pay and Spar in Marble Hall town. It also has an agreement with Medupi Power Station to supply vegetables to cook for the workers building the station.
Leshalabe also had her own harvesting to do, winning the Female Entrepreneur of the year award in the smallholder and commercial markets sections, and price money of R60, 000. The competition is run by the Limpopo Department of Agriculture Forestry and Fisheries.
Leshalabe attributes her success to passion, hard work and determination. "When I was younger my family had a farm and my father was a farmer. Farming is in me and I understand it. When I looked at starting a business, farming was the only thing that made sense to me, it's in my blood."
Leshalabe says she was initially motivated to start a farming business after seeing a large number of people who were unemployed, and she wanted to make a difference.
On the farm, men and women, wearing protective farming gear such as farming boots, clothing and sun hats are hard at work, digging, cutting, hoeing and sowing. Leshalabe and her workers are surrounded by hectares and hectares of green crops stretching as far as the eye can see.
To improve her skills, Leshalabe underwent training in Business Management through the Limpopo Economic Development Agency (Leda), formerly known as Limpopo Business Support Agency which is under the Limpopo Department of Economic Development.
She said that starting a business is not easy, there'll be many obstacles along the way, but it makes you a stronger business person. "You must acquire the necessary skills to make your business work and it's very important to network."
Leshalabe has now become a role model to her workers such as Samantha Peba, 30, who said she has learnt a lot about running a farm and hopes that one day she can also start her own farm.
"Before I started working here, I had casual jobs in the surrounding farms, sometimes I would go for months without an income. Working for Advidata provided me with stability. I can now provide for my family, especially my seven-year-old daughter. I can make long term financial agreements because of the stability that this job gives me. I would also like to start my one farm one day.
"I know how to plant different plants and I can tell when the crop is ready for harvest. I also know the different types of fertilizers to make the soil fertile," said Peba.
Leshalabe appealed to other women to get involved in farming and contribute towards the growth of the country.
"I would like to grow my business and export our produce. This will also allow further job creation for the community."
She ended the interview by showing off her small flower garden and said she would like to produce flowers but needs a mentor to teach her how to farm flowers.
Limpopo MEC for Agriculture, Jacob Marule said the department organised the awards to honour women who contribute to food security, the fight against hunger and unemployment.
"I am very proud to say our department will continue to support this initiative of recognising women in agriculture. I also acknowledge Limpopo Women in Agriculture and Rural Development for spearheading women issues in Agriculture and for the promotion of female headed businesses," he said.