In an effort to increase the number of people who test for HIV in the province, the Gauteng Department of Health has embarked on a massive door-to-door testing campaign.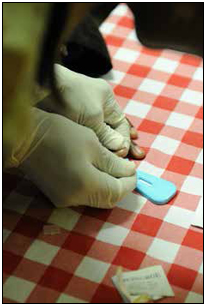 The Know Your Status Campaign is a joint initiative between the department and the Gauteng Aids Council.
It aims to raise awareness about HIV/ AIDS and ensure that healthcare is delivered to all citizens in the province.
The campaign kicked off in Bekkersdal, Westonaria, recently and forms part of South Africa's response to the HIV/AIDS challenge, with the focus on prevention.
President Jacob Zuma launched the HIV Counselling and Testing (HCT) campaign in April 2009 with the overall goal to promote testing and encourage all citizens to know their HIV status.
By the end of March 2013, the HIV testing rate in the province stood at 92.9 per cent but the department still wants to increase the number of people tested by year end. It aims to do so by visiting homes across the province and encouraging people to take the test.
With the new campaign the department sends mobile units with health workers to rural communities where they go door-todoor and carry out the HIV and TB tests on residents willing to take them.
The results of the test are available immediately and health workers provide counselling before and after the tests.
The campaign not only ensures that people know their status but also encourages pregnant women to book antenatal clinic visits early into their pregnancies.
The department says antenatal visits before 20 weeks of pregnancy increased from 34 per cent to 37.3 per cent from January to March 2013.
This increase is great news for the department, which is on a mission to reduce neonatal and maternal deaths.
Back in Gauteng, other inventions that the department have introduced are aimed at reducing the waiting times at clinics.
Meanwhile other provinces have also launched door-to-door testing in various villages. Health Minister Dr Aaron Motsoaledi also took the HCT campaign to the Mafefe village in Limpopo where approximately 2 000 villagers underwent counselling and testing over a three days.
For more information contact the Gauteng Department of Health on 011 355 3000.