Written by Samona Murugan
School infrastructure
To celebrate the legacy of the global icon that is Nelson Mandela, the Department of Basic Education is upgrading infrastructure in at least 94 schools throughout the country.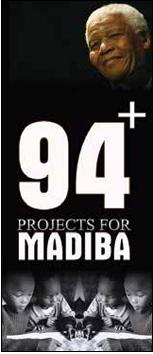 The campaign, called 94+ Projects for Madiba, tackles a cause dear to the former President's heart - a commitment to quality education for all children in South Africa.
Launched last year, the project was named to mark the 94th birthday of former President Mandela. The aim of the School Infrastructure campaign is to celebrate Nelson Mandela's birthday and legacy by giving hope and dignity to children in more than 94 schools across the country through improvements in their school infrastructure.
Since the launch, the department, working with partners from the private sector, has been hard at work to improve school infrastructure across the country, but there are still many schools that require urgent attention.
Ninety six schools have been identified for attention to date, and more will be added as they get sponsors. Up to now, 46 schools have been upgraded and work to refurbish 50 is continuing. The renovations include sprucing up school buildings; installing water and sanitation facilities, constructing administration blocks, fencing off schools, providing desks and chairs or providing kitchen units, depending on the needs of the school.
Where possible, libraries and laboratories are also being provided, as well as landscaping and gardening to create an environment that teachers and learners can enjoy.
But given the huge backlog inherited by the democratic government in 1994, the demand far outweighs the resources available to improve all schools.