When Ingrid Lestrade took five teenagers to a training workshop a few years back, she was stunned when one of them suddenly said to her, "This is the first time I feel like a human being, because I have never been treated this way before."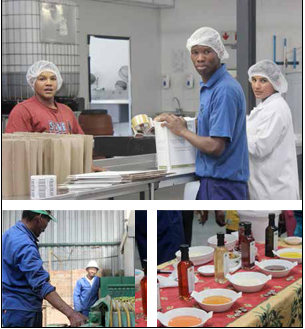 Lestrade herself grew up in poverty and knows the humiliation of having to knock on people's doors for help very well. She was taken aback when the teenager told her that she had always had to share a bed with family members and had never had a whole plate of food all to herself.
Lestrade is the Director at the Goedgedacht Trust, a non-governmental organisation (NGO) based at the Goedgedacht Farm in Kasteelberg in the Western Cape. The trust is a busy community development centre where Lestrade and her team work tirelessly to fight poverty and climate change in the province.
Through the trust's flagship programme called the Path out of Poverty (POP), rural children and farmers can come, learn life and farming skills, get inspired and then go back to their own communities and continue to inspire others through a variety of projects aimed at alleviating poverty in rural areas. POP is particularly close to Lestrade's heart and is born out of the vision that with good nutrition, education and skills training, rural children born into poverty can have very different lives from that of their parents.
"This is only an interim solution to a very big and deeply entrenched problem of child abuse and abandoned children, but this is just one of the things that shows the amazing things that can happen when you build human capacity. I believe my life would've taken a completely different path, maybe into teenage pregnancy and alcoholism, if it wasn't for the guidance I received here."
To date POP has 17 different projects which create safe spaces for vulnerable children to grow up and be cared for, healthy and educated. The three golden threads which weave their way through the projects are education, healthcare and personal development. They are designed to help break the cycle of poverty.
To help fund the programmes, the trust has an established olive farm. The farm enables Lestrade and her team to help families, as well as create a new source of sustainable farming to fight climate change.
What makes olive farming attractive is that the fruit can grow in very dry climates and this is extremely important for the Goedgedacht Trust because it is predicted that the region will be a desert by 2050.
"We live in a community of struggling wheat and grain farmers so this means they have had to start rethinking the way they do things and what they choose to farm." Assisting farmers with skills and knowledge on planting olive trees has enabled them to plant a crop that is more sustainable in the long run.
To lend Lestrade and her team a helping hand, the Eskom Development Foundation donated olive trees that were planted on five hectares of the farm's 12 hectare olive tree farm, a 2000 litre sprayer, a water wagon and an irrigation system. In the next five years, this investment will help the trust support 1000 children.
The Goedgedacht Trust has provided agricultural support and training to 65 emerging black farmers in the West Coast. "This small contribution will help to ensure that Goedgedacht is a sustainable organisation that continues to eradicate poverty through its innovative programmes that benefit the local community," says Eskom Development chief executive officer Haylene Liberty.
Currently, the trust grows, harvests and produces six different fruit infused vinegar dressings, premium quality extra virgin olive oil and the famous olives that can be used in salads and many other dishes. The products are then packaged and transported to supply Pick 'n Pay stores countrywide.