Thirty Limpopo villagers have pooled their resources together to turn their private land into a hugely successful citrus farm.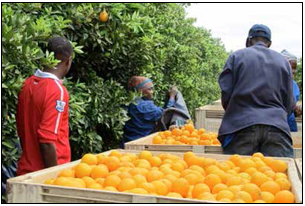 The villagers are members of the Mabunda Cooperative and were each given 10 hectares of land in the Xitlakati village, near Giyani, about 15 years ago as part of the Department of Agriculture's efforts to help people start their own projects.
"It was just another project given to individuals to grow some vegetables and make a living. However, with 10 hectares each, members of the community decided to form a 300 hectare citrus farm," said project manager Benet Malungani.
Today, the farm employs 63 permanent and more than 300 seasonal workers.
Most of the seasonal workers rely solely on harvest time at the citrus farm to earn an income.
According to village headman, Billy Nkuna, the project also benefits the Mabunda royal family and the rest of the community.
"The Mabunda royal family receives a payment of R18 000 per season, which is used to alleviate poverty in the village. On top of that, they support local schools with computers and uniforms for kids from disadvantaged families," Nkuna said.
During a recent visit to the farm, Greater Giyani Mayor Pat Hlungwani said the project was an example of how cooperatives could help reduce poverty in the country.
"If everyone in any village or society could just start up something that could absorb one or 10 people, it would make a huge impact in assisting government create employment," he said.
Hlungwani urged society to encourage children to choose careers in the agricultural sector.
"We need to come up with some kind of motivation to make them understand that agriculture is important," he said.
The mayor was invited to the farm to hand over building material that the cooperative bought for the 63 permanent workers.
Cooperative members supplied each of the workers with eight sheets of zinc, a door, window frame and wheelbarrow to build or extend their homes.