School infrastructure
Work to renovate the Nelson Mandela Park Primary School is virtually complete and the community of Mthatha awaits with anticipation, the official opening of the school.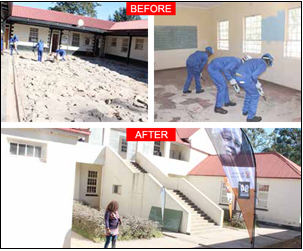 The school is expected to open after the June holidays.
School principal, Xolisani Neti, says learners and community members can't hide their excitement as their new school gets ready for occupation. "We feel so happy, we are excited. We cant wait to go to the new school."
The 1067 learners of Mandela Park Primary School have been attending lessons in a partitioned hall. "The hall was partitioned into 10 classrooms. It had no ceiling and no ablution facilities," says Neti.
The newly built school boasts 27 classrooms, a multi-purpose hall, computer and laboratory facilities as well as sport and recreation areas. Neti adds that the beautiful landscaping will also improve the environment.
The school forms part of the '94+ Projects for Madiba' initiative.
The school, which costs a staggering R47 million, used traditional structural steelwork to frame the buildings and an innovative light-weight steel framing system to create the internal walls.
Neti says the school will make a big impact in the community. "It will make a big difference. It is within easy reach of learners. The facilities will be accessbile to community members. It will instill a sense of ownership among members of the community as they will be able to access recreational facilities such as sports fields of high standard."
Minister Motshekga has commended teachers at the school for persevering and continuing to teach under difficult conditions. "It is in our interest to protect and promote children's rights to education and we are committed to doing everything we can to improve education in the country," she said.