Written by Noluthando Mkhize
Sport, arts and culture
Praise singer Bulelani Zantsi got a chance to travel abroad for the first time to perform his work before a French audience in May.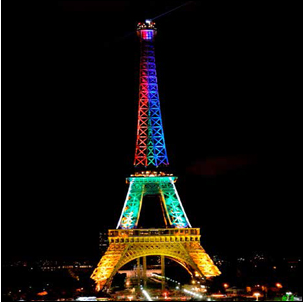 He performed at the International Biennial of Poets, which was held during South Africa's first Season from 28 to 31 May. The highlights of the week included the opening of a major exhibition celebrating the life of former President Mandela.
Entitled 'From Prisoner to President', the exhibition pays homage to former President Mandela who was also made an Honorary Citizen of the city of Paris.
Zantsi is one of over 800 South African artists, scientists, academics and sports people who will strut their stuff in France from May until December. The season will be celebrated in about 100 towns across France, highlighting the diversity of South Africa. It will include 250 dance and theatre performances, 100 musical concerts, 50 films, 35 workshops, 30 exhibitions, and 150 South African wines for the French to taste.
The Season in France is part of the Department of Arts and Culture's Mzansi Golden Economy strategy to raise the profile of the arts, culture and heritage sector within the country and abroad.
Minister of Arts and Culture Paul Mashatile said the season was a result of a bilateral agreement, which aims to strengthen people-to-people relations between France and South Africa.
He said the Season in France will offer South African scientists, academics and sports people an opportunity to share their work with French audiences and facilitate collaboration with their French counterparts.
"This we believe is critical in developing our local industries and the creative industries in particular. We are confident that all involved will do us proud."
Zantsi, a Geography, Xhosa and Arts and Culture teacher at Phakama Secondary School in Cape Town, got to show off his talent before an appreciative French audience.
"It was such a penetrating experience to represent my country and the recognition of our well-known leaders who played a crucial role during the apartheid regime in South Africa. To stand on an international stage and share praises of the most revered person in the world such as former President Nelson Mandela was such a wonderful experience," said Zantsi.
Zantsi was overwhelmed by the positive response he received from the French. "My performances were overwhelming because of the response I received from the audience. People were ululating, clapping hands which was fantastic."
He said his experience in France taught him to appreciate language and culture and the importance of recording history and literature, which will benefit the next generation.
"The experience will also help me to write books because the culture of reading in our schools is vanishing and more particularly our indigenous languages are facing extinction."
Participants that have been selected to be part of the Seasons were chosen through a series of open calls for applications.