On the hills of Thohoyandou lies a village called Mukula, where a group of men and women has formed a viable cooperative to crush the village's natural resource of stones into concrete for supply to local builders.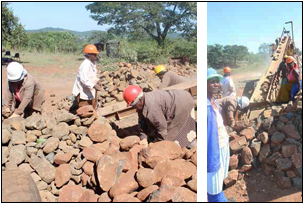 The group of 20 people from the village registered the Mukula Stone Crusher Primary Cooperative in 2000 to generate income.
A year later, they secured funding from the Limpopo Economic Development Agency (Leda). "After registering our company we approached Leda to support us to get the business going. The agency came on board and gave us support with purchasing equipment to run the cooperative," says Mercy Mbedzi, manager of the cooperative.
She says with the assistance from Leda, the company was able to purchase a stone-crushing machine, a truck to collect the stones and fence off the property where they work.
Mbedzi says the business has grown tremendously since its inception. It now supplies concrete to community members who are building houses and to housing development companies. On a good day, the cooperative manufactures about 22 tons of concrete.
To get to the premises of the cooperative, you drive along a very rocky, gravel road with humps and bumps.
It takes about 15 minutes from the main road to get to the destination where the proud villagers conduct their daily duties.
Dust sifts through the air as several women carry each stone, some weighing over 10 kilograms, rolling it into a stone-crushing machine.
The women are wearing construction boots, some are wearing hats to protect themselves from the scorching Limpopo heat.
Most of the members of the cooperative had never been employed before, others had only worked as domestic workers.
Their long and tiring day starts at 7:30am when they clean the machine used to crush stones and wait for the stone collectors to bring the stones that will soon be converted into concrete from the neighbouring mountains.
From about 10am, the stones that have been collected are crushed, until the end of the working day.
Anna Nemanghi who is employed by the cooperative and is also a member, says that before they started the cooperative, she was working as a domestic worker getting paid R180 a week. This was not enough for her to look after her seven children.
"Life was very difficult for me and my children as the money I received was not enough. When we formed the cooperative I was not sure whether it would work. I now see that it is finally bearing fruits and I am proud of the work that we do," explained Nemanghi.
In future, members of the cooperative hope to expand their business by manufacturing bricks.
For more information call 015 287 3000