Written by Samona Murugan
The Department of Basic Education is stepping up measures to stop bullying at schools.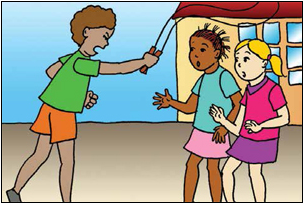 The rising number of violent attacks amongst learners in schools in the past year has prompted the department to implement regulations for safety measures at all public schools.
This includes incidents of bullying, fistfights, stabbings, and three separate incidents which led to deaths of learners at school.
The regulations give provincial education departments powers to conduct random searches for weapons and narcotics. Schools that can afford it can also install CCTV cameras and hand-held metal detectors, and hire security companies.
The department has also appealed to parents, teachers, school principals and communities to take action as soon as they notice signs of bullying and violence amongst learners.
What is bullying?
Bullying can be physical, verbal, or emotional teasing or taunting and is usually repeated over time. It can occur in or out of school and often takes place in classrooms or during breaks. Bullying is when an individual or usually a group of learners take advantage and gang up on or isolate one learner. Those doing the bullying usually gain the loyalty of bystanders who themselves try to avoid being the next victim.
What can parents do?
Speak to your child and find out if he or she is experiencing problems at school.
Assure your child that you will immediately investigate and report the situation to the school principal or a teacher.
Encourage your child to speak to a teacher or to you every day to monitor if the bullying has stopped.
Suggest to the school that certain areas be more supervised.
Be sensitive as your child may be embarrassed or afraid to report the incident in fear of being bullied further.
Avoid being a fix-it parent by calling the bully's parent. Most of the time this is not effective.
Do not tell your child to ignore the bully, ignoring may make the situation worse.
Teach your child to be assertive but not aggressive.
Monitor your child's whereabouts and their friendships.
Watch for signs of depression and anxiety in your child; and do not hesitate to seek professional counselling.