The Coega Industrial Development Zone (IDZ) is going through a major construction boom, attracting huge investments and creating thousands of jobs in the process.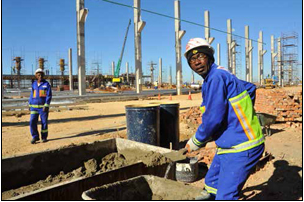 Building projects in the IDZ, situated in the Nelson Mandela Bay Metropolitan municipality, have injected over R1.2 billion into the local construction industry, creating more than 2500 jobs since the beginning of the year.
The Coega IDC is a product of the Coega Development Corporation (CDC), which is an entity owned and operated by the government.
Ayanda Vilakazi, head of Marketing and Communications at the CDC, says six major construction projects are currently underway in the IDZ, including Chinese car and truck manufacturer First Automobile Works' (FAW) new R200 million plant, food service group Famous Brands' new cold storage plant, DCD Group's wind tower manufacturing plant, the addition of Coega Cheese onto the Coega Dairy outfit, Agni Steels' R400 million smelter facility, and the extension of Rehau in the Nelson Mandela Bay Logistics Park.
Industrial gas company, Air Products South Africa, starts construction of its R300 million state-of-the-art air separation unit in Zone 3 this month, bringing the total number of projects under construction to seven.
Vilakazi says that FAW's plant construction will create about 2 000 jobs over the year-long project, which is on track for completion in December. When it starts operating, the plant will create a further 280 permanent jobs. The total investment value of FAW will amount to R600 million.
Famous Brands is building a 2 400 square metre cold storage and distribution centre valued at R200 million.
The company has also joined up with Coega Dairy to expand its operations to supply cheese products to the group in a project dubbed 'Coega Cheese' with a joint valued investment of R45-million injected into the Coega IDZ. It will supply cheese to the franchise stores, including Debonairs Pizza, Steers, Wimpy and Mugg and Bean.
The DCD Group is also building a R300 million wind tower factory which, once completed, will employ 168 workers, and produce between 110 and 120 wind towers annually.
Agni Steels is building a R400 million smelter facility in the IDZ. The plant will produce mild steel billets from scrap metal.
The Rehau facility in the Nelson Mandela Bay Logistics Park is also being extended to provide over 9000 square metres of manufacturing space and offices.
The Coega IDZ was established to boost manufacturing, including beneficiation of export goods, investment and local socioeconomic growth. It also serves as a major hub for developing skills and creating jobs. It offers global competitiveness through worldclass infrastructure, tax incentives, rebates and a duty-free zone.
"We currently have 20 operational investors, and once these seven construction projects are complete, we will be up to 27 operational investors by mid-2014," says Vilakazi.
Vilakazi adds that Coega has managed to attract these huge investments, despite a depressed global economic climate. "The global economic climate is still not stable, yet investment continues to flow into the Coega IDZ and is literally taking root in the construction projects underway."