Written by Samona Murugan
Youth matters
Hundreds of youngsters knock on the doors of the National Youth Development Agency (NYDA) each day seeking assistance with accessing tertiary studies, starting a business or finding a job.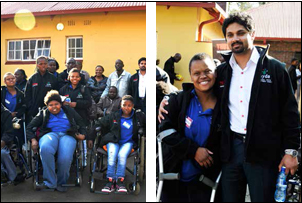 Despite assisting as many youngsters as they can, the NYDA admits that it does not have the capacity to help all the people who apply for assistance. The specialised Thusano Fund was created to assist youth or youth organisations who approach the NYDA with immediate once off needs.
Thusano, which means helping one another, was launched to address the daily needs of as many young people as possible, to improve, not only their own lives but that of other young people and communities as a whole.
First on its list of recipients was the Soweto Association for People with Disabilities (SAPD). SAPD is an NGO aimed at providing care and support to empower people with disabilities. They help equip local youth with disabilities with practical skills to assist them finding a job. The NGO has however faced difficulty with scarce resources and teaching material. They then approached the NYDA for help to purchase educational equipment which included practical learning aids and apparatuses suitable for people with disabilities.
"The Thusano Fund is an initiative which is very close to my heart. We receive many requests from organisations and individuals who need small amounts of money to continue studying, upgrade their facilities or like this organisation, simply purchase learning material to equip young people with necessary skills to live independently and with dignity. While we cannot help everyone that approaches us, we do need to make a tangible difference in the lives of young people with the limited resources we have," said NYDA Executive Chairperson, Yershen Pillay.
The NYDA has allocated 2 million to the Thusano Fund to assist young people and youth organisations who simply need a helping hand to go on and succeed.
"We may only be able to assist a few youngsters and orgnaisations, but it is better than not assisting at all," added Pillay.
According to Johanna Sebolai, an SAPD Projector Coordinator, "The learning aids donated by the NYDA will tremendously improve our learners' educational status and communications skills, especially in literacy and numeracy. It will assist us in teaching them to find creative solutions to daily problems and to be able to adapt their teachings to their lives, enabling them to be independent citizens."