The Zondi Buy Back Centre in Soweto has become the beacon of hope to the many unemployed residents of Zondi 1 and its surrounding areas.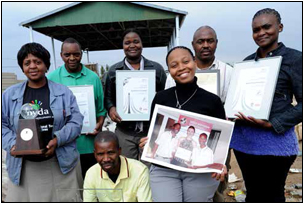 Leswe la gago le a phidisa," is a seTswana saying which, loosely translated, means one person's trash is another person's treasure. These words have found expression in the livelihood of thousands of vagrants, trolley pullers and unemployed people who have found a way of generating income through waste recycling.
The next time you are awoken by strange sounds from your refuse bin in the early hours of the morning, don't be alarmed. It may be the start of the early morning rush for informal recyclers salvaging recyclable material to sell at the busy Zondi Buy Back Centre in Soweto. Waste collectors earn between R50 and R200 aMembers of the Zondi Environmental Consultants with some of their trophies at the Zondi Buy Back Centre. (Picture: Katlholo Maitadi) day from salvaging.
The centre has won 13 awards for excellence and innovation in competitions supported by the Black Management Forum (BMF), the Industrial Development Corporation (IDC) and the Small Enterprise Finance Agency (SEFA).
Xoliswa Xotyane, the centre's Financial Director recently won Best Woman and Best Manufacturing category for the recycling business. The awards came with a cash prize of R300 000.
The centre bears testimony to the hard-work and resilience of the team led by Bongani Mzantsi, Managing Director and one of the founding members. It took 11 years of blood, sweat and tears for the centre to be viable.
Mzantsi spent his early childhood in the rural parts of the Eastern Cape, where life was tough. He came to Johanneburg in his early twenties seeking a better life.
Shortly after his arrival, he formed a construction company which he ran for several years. But it did not generate enough money for him to support his family.
In May 2002, Mzantsi joined up with some locals to establish a non-profit organisation called Zimisele Community Development Project. They later approached Tuis Nkutha, a local councillor at the time, to assist them in securing the premises where they could perform their work.
He advised them to utilise an abandoned municipal building at no 666, corner of Mbatha and Koma road, where the current Zondi Buy Back Centre is located.
The building was hijacked by Amaginsa, a township word for car thiefs. It was used as a storage facility for stolen vehicles and for drag racing.
With support from the City of Johannesburg (COJ), the criminals were evicted.
By mid 2002, Zimisele was operating as a Crafts Centre. It offered various services from sewing to artwork.
Products that were manufactured were sold to the public. Members invested and paid themselves wages with the money they accrued.
In 2004, the COJ wanted to establish a Buy Back Centre as demand for waste recycling was on the rise. The city approached the group with a proposal to set up a buy back centre and came to assess the premises. After full inspection, with support from then Mayor, Amos Masondo, the buy back centre was set up.
Mzantsi, together with 11 members formed Sinqobile Trust, trading as Zondi Environmental Consultants to run the Zondi Buy Back Centre in the same year. They were fully trained on waste recycling and business opportunities. It is administered by Qotyane.
Members of Sinqobile Trust renovated the place and began operating in full.
It currently employs 56 full time employees. An additional 200 people make a living by depositing loads of recyclable waste they collect – ranging from wine, beer and cold-drink bottles, to food jars, take-away plastic containers, milk and juice cartons, cans, papers and cardboards.
The project works closely with Pikitup, the city's waste collection agency. Trucks from Pikitup also collect the waste in Zondi and nearby places from locals in designated places every week.
After crushing the material, the centre sells it to major corporations like Collect-a-Can, Mondi Packaging South Africa, Nampak Recycling, Consol Glass, Tetra Pak, Polystyrene Packaging Council and Distell among others.
There are also educational programmes targeting young people, about recycling opportunities and positive social conduct. The management of the centre plans to employ over 100 locals next year.
"We plan to be environmentally friendly in our landfills by meeting the mandate of the city to reduce waste by 20 per cent in 2014, explains Mr Mzantsi.