Residents of the North West, who experience medical emergencies or need specialised services, can expect help much quicker after the provincial Department of Health got its first emergency helicopter.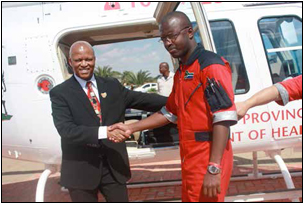 The department recently acquired the services of the helicopter, which is equipped with all the essential medical equipment and will be able to accommodate a patient who needs to be in the Intensive Care Unit.
The helicopter service is expected to reduce the long travelling hours to health facilities in the vastly rural province.
"An emergency hospital transfer from Vryburg to Klerksdorp will now be completed within two hours where previously it would take up to six hours," said Health MEC Magome Masike.
The helicopter will not only be used to respond to emergencies but will also provide specialised services to remote areas. Specialists will be sent to patients by helicopter where it is considered necessary.
"Due to the vastness and the rural nature of our province it is more frustrating for a sick patient who has to travel long hours to receive specialised care," the MEC noted.
When patients call the emergency number 10177, the call centre will determine the nature of the incident and decide whether the helicopter needs to be dispatched.
"The helicopter can also be called to an emergency by paramedics on an accident scene or doctors at a healthcare facility who want to transfer a patient to another hospital as a matter of urgency," explained MEC Masike.
The helicopter service is a joint venture between ER24 and Halo Aviation and will cost the department R750 000 a month over two years.