Employment news
Agri graduates call for more internships
Graduates from Potchefstroom College of Agriculture in North West called for government to increase the number of internships for agriculture students. This will help to reduce unemployment among students graduating from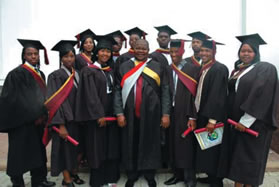 tertiary institutions.
"Agricultural skills are scarce and the sector needs skilled people. As a qualified grain grader, the government needs to consider us for vacancies in closing the gap and address the shortage of skills in the sector," said graduate Morake Gomolemo.
Tshegofatso Seimelo, who also graduated recently, said government could reduce the unemployment rate by considering diplomas as requirements for applicants rather than considering only degrees for agricultural vacancies.
North West College of Agriculture principal Dipepeneneng Serage said the theoretical training and practice of agriculture acquired by the diploma graduates for the past three years, qualified them to perform any agricultural activities in mixed farming.