Who is at risk?
Anyone can get breast cancer, but you are more at risk if your diet is high in fat, if you don't exercise regularly, are overweight, drink more than two glasses of alcohol per day and if you have a family history of breast cancer.
You are also at a higher risk if you are over 40, if you started your period at a young age, went through menopause at a late stage and if you had children after the age of 40 or not at all.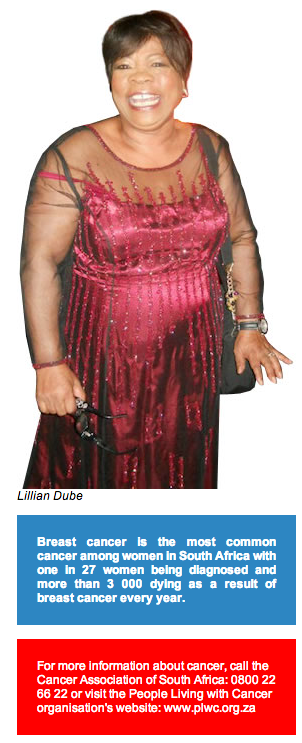 Symptoms include a lump in your breast, unusual swelling, puckering of the skin (like an orange peel), a sore or rash, pain, discharge from the nipple and indentation of the nipple (instead of pointing out and forward, it is pointing sideways or inwards).
Lillian Dube
All cancer patients and survivors will tell you that finding out they had cancer and then undergoing treatment, was one of the biggest challenges they had ever faced. The physical effects of the treatment are tough with a many side effects, but it is also a psychological and emotional challenge.
Popular actress, Lillian Dube, is a breast cancer survivor who didn't let the disease dampen her positive spirit. The bubbly and outspoken actress is renowned for her role as the matriarch and matron Sister Bettina in the TV drama Soul City. She also stars in SABC 2's Muvhango.
Lillian is a very busy lady; everyone wants a piece of her. Her phone keeps on interrupting us, but she manages to tell me how her acting career started. "I was encouraged by my son to get into TV back in the 1980s. He heard on the radio that there were auditions in Johannesburg. He even got a telephone number and address for me," she says. "At that time I was working as a credit clerk at a retail." 
She is now working on season two of the TV series, Skwizas, which is being produced by her production company: Lillian Dube Productions.
Cancervive campaign
Diagnosed with the disease in December 2007, Lillian was operated on in January 2008 to remove the tumor. She subsequently received chemotherapy treatment every three days for four months and radiotherapy for 30 days as a safety measure to ensure that potentially remaining microscopic cancer cells were totally destroyed.
"I am an only child, I have only one child and I'm a divorcé, so I received most of the support from the community and my co-workers," said Lillian. 
"I am active in creating breast cancer awareness through talks and presentations. I'm now part of the new Cancervive campaign that educates and creates awareness about the shy-cancers. I'm also a member of Bosom Buddies, which is another breast cancer support group, and I have founded a Breast Health Foundation in Lesotho in 2008"
Treatment
Lillian's cancer was discovered in a routine check-up. The first mammogram didn't detect the tumor; the radiographer only noticed it when she went again the following year. "Because early detection is key, I appeal to women over the age of 40 to go for annual mammograms," she said. 
Treatment for breast cancer depends on the stage at which the cancer is detected. It may include surgically removing the tumor and a mastectomy – removal of the affected breast.
A double mastectomy is when both breasts are removed. Radiotherapy is administered to kill cancer cells that may have remained after surgery. Chemotherapy is when powerful drugs are used intravenously and in tablet form to kill the cancer cells internally.
-Refilwe Thobega