According to a report released during a provincial TB and HIV seminar held in December last year, more than 81 per cent of people who were screened, tested and diagnosed with TB in the province's public health facilities, have been cured. This is an increase from 64 per cent in 2004, to 81 per cent in 2011.
"These positive results were achieved because of an intensified TB management programme, which involved door-to-door campaigns by community healthcare workers and directly observed treatment support," said Simon Zwane, head of communication at the Gauteng Department of Health and Social Development.
"Through this approach, defaulters were traced and brought back for treatment. This has also helped ensure that more people take the test."
GeneXpert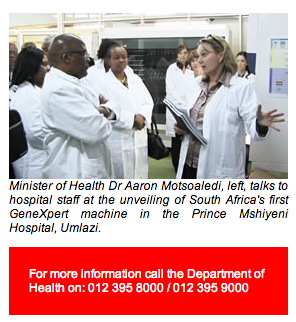 Gauteng Department of Health and Social Development MEC Ntombi Mekgwe said that in the 2010/11 financial year, 52 118 new TB cases were diagnosed. The province is expecting an increase in the number of diagnosed cases and in the cure rate during the current financial year. The reason for this is the introduction of the two GeneXpert machines at Chris Hani Baragwanath Academic Hospital and Edenvale Hospital.
The machines, which were introduced in March last year, reduce the time to diagnose TB from two weeks to two hours. "Between March and November 2011, 16 189 people were tested using these machines. Some 2 195 patients tested positive and are currently undergoing treatment," said Mekgwe.
Complete treatment
Districts have also intensified efforts to improve TB management by increasing awareness about the disease, educating people to complete treatment and educating communities on infection control.
Mekgwe urged patients to complete their treatment to avoid getting multidrug-resistant TB. The department's awareness campaigns emphasises that TB is curable after six months of treatment, even among patients living with HIV. "I would like to appeal to everyone who may have symptoms to seek treatment before it is too late," she said.
What are the signs of TB?
The signs of TB include:
a persistent cough for two weeks or more
night sweats
weight loss
chest pains
coughing up blood
fever and chills
loss of appetite and tiredness.
-BuaNews