Youth matters
New year, new home
Duduza residents can start the New Year afresh with new homes made possible by the Gauteng Department of Local Government and Housing and the private sector.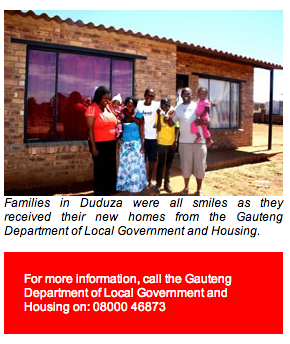 The community of Duduza suffered great losses when a tornado struck Ekurhuleni in October last year, leaving more than 160 people injured and/or homeless. Tragically, an eight-year-old child died in the incident.
Dignity
The homes were rebuilt after the Ekurhuleni municipality joined forces with more than 1 000 volunteers from the National Youth Development Agency under the supervision of private contractors. 
Mongezi Ndwandwa, senior project manager at Mellon Housing, one of the sponsors, said the main aim of their involvement was to restore the dignity of the residents by rebuilding their homes.
After months of hard work, Gauteng Local Government and Housing MEC, Humphrey Mmemezi handed over some of the new homes the community. He said the rest of the houses would be completed within the following weeks. 
"We are hoping to eventually hand over more than 50 houses. This partnership between the department and contractors has demonstrated that by working together, we can really do more."
Overjoyed
Evelyn Lamon, a 53-year-old mother of four children was one of the beneficiaries. She was overjoyed when Mmemezi presented her with the keys to a new house. After the tornado struck she was forced to share a one-room makeshift shack with her children. 
"The beauty of this new house is that it is divided into rooms. The previous RDP house was an open plan and we had to use curtains to make partitions. Now I can have my privacy and my children will have their own room," said an excited Lamon.