Employment news
Crafting an income brings hope and dignity
Delegates at the recent COP 17 Climate Change conference were in awe of the beautiful craftwork in the form of crochet, fabric painting, beading and wire art displayed at the Department of Arts and Culture's stand in the exhibition hall.
The craftwork, which received the Best Green Exhibition Award at the conference,  was the work of people from the Woza Moya project at the Hillcrest AIDS Centre Trust west of Durban.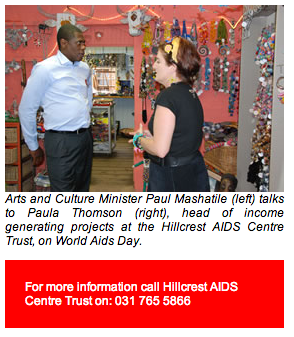 Woza Moya is an income generation project of the trust. It helps those in need regain hope and dignity by getting them to use their creativity to earn an income.
Economic empowerment
Woza Moya acts as an agent for over 200 crafters. As the AIDS epidemic increases, more families are turning to the project for help
Woza Moya assists by offering them training in different crafts.  It markets the goods and there is a small shop on the centre's premises that belongs to the crafters. 
The project has proven that with the right care and access to medication lives can be turned around. The centre has found that economic empowerment is one of the most important factors in fighting this epidemic, because as it gives the crafters the hope of looking towards the future.
The use of arts and crafts to the benefit of patients, as well as the project's success, caught the attention of the Minister of Arts and Culture Paul Mashatile who commended the centre for using the crafts project for economic development.
Job creation
Minister Mashatile said the trust's art project is in line with the objectives of the Department of Arts and Culture's strategic focus of repositioning the role of arts, culture and heritage in economic development, job creation and social cohesion.
"This centre is an exciting example of how the arts can be used to great benefit. At this centre, having skills like sewing, fabric painting, beading – all mean an income, an opportunity for creative output, a chance at a better life," the Minister remarked.
He added that art could contribute to job creation, skills development and benefit those in need. Crafters use their skills to feed, clothe and care for their families, many of whom are either infected or affected by HIV and AIDS.
The centre self-generated an income of R4 million in 2010.
-Mbulelo Baloyi