Employment news
A professional boost for health
The KwaZulu-Natal Department of Health welcomed community service officers and interns placed to serve the province in 2012.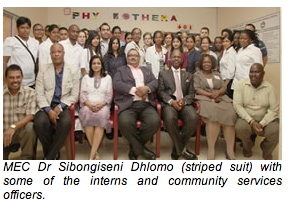 "We congratulate all the healthcare professionals who have joined us as community service officers and interns to complete their training and to make themselves, their parents and their country proud," said Health MEC Sibongiseni Dhlomo. 
This year the Department has employed 425 community service officers spread across the province to serve our people in multiple disciplines in the following categories:
152 medical officers
57 radiographers
40 physiotherapists
37 pharmacists
34 environmental health practitioners
32 occupational therapists
31 dieticians
30 audio and speech therapists
12 physiotherapists
According to Health Minister, Dr Aaron Motsoaledi, "It is the dawn of a new phase that comes with even greater responsibilities, that requires accountability, strategic leadership and adherence to the pledge that you made to keep up ethics of the health professions."
"We are appealing to you to work with us to give our people the respect and dignity they deserve. Always remember that health is a human right". With that in mind, we also announce a ground breaking undertaking that will begin to enhance the number of doctors produced for our country," Motsoaledi said. 
"We are … very elated about this undertaking considering that the University of KwaZulu-Natal does not admit more than 200 first year students intending to study Medicine. This also applies to the eighth medical schools spread across South Africa, that combined their intake does not exceed 2 000 first year students. … This opportunity will ensure that those students who did not get spaces in South African universities realise their dreams and come back to serve the people of this province known to be the epicentre for HIV and TB, as well as maternal and child morbidity and mortality, chronic diseases of lifestyle and trauma and violence."